Easy St. Patrick's Day Recipes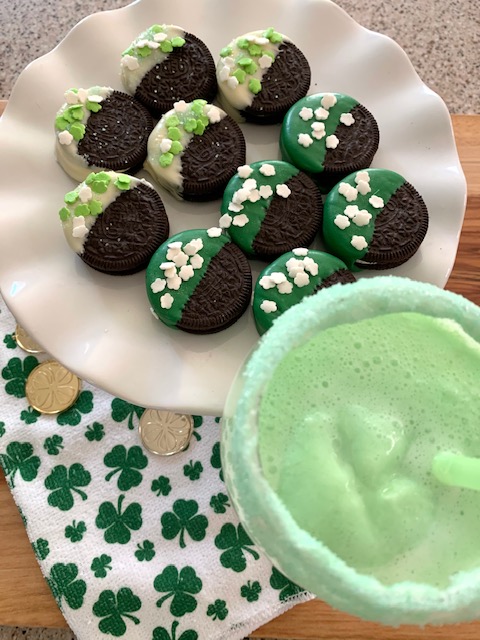 Do you celebrate St. Patrick's Day? I always enjoy finding even small ways to celebrate many of the smaller holidays. For St. Patrick's Day this year, I was inspired by some fun recipes off of Pinterest, and I thought you would enjoy them as well. I know me and Mister enjoyed them 🙂 So here are a couple of easy recipes to celebrate St. Patrick's Day.
Easy Recipes to Celebrate St. Patrick's Day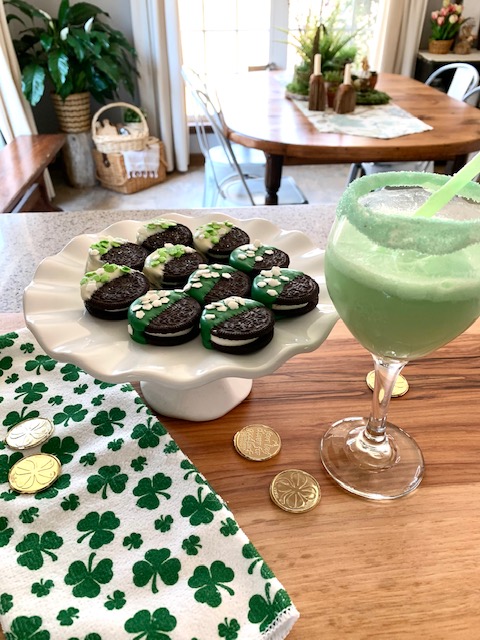 Dipped Oreos and Leprechaun Punch are two easy recipes you can use to celebrate St. Patrick's Day with your children, grandchildren, or just as empty nesters, like us 🙂 These recipes would also be fun to use at a baby shower or wedding shower, or even your next ladies meeting. You can customize the colors to fit in with any theme.
Here are the ingredients you will need: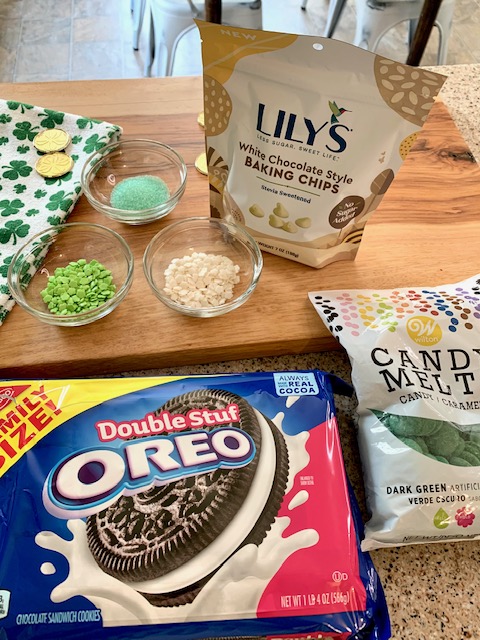 Dipped Oreos:
(1) package of Double Stuf Oreos, (1) package of green candy melts, (1) package of white candy melts, green and white candy sprinkles, and wax paper.
Leprechaun Punch:
(1) 2 liter Sprite, (1) 2 liter Ginger Ale, tub of lime sherbet
I saw various versions of this recipe on the internet, so I played around with it and came up with my own version. I couldn't find white candy melts, so I purchased white chocolate chips instead. I already had white and green sprinkles on hand and the wax paper. I love that my candy sprinkles were in the shape of little clouds, which made me think of clouds and rainbows…..and that pot of gold we never can find lol!
Dipped Oreos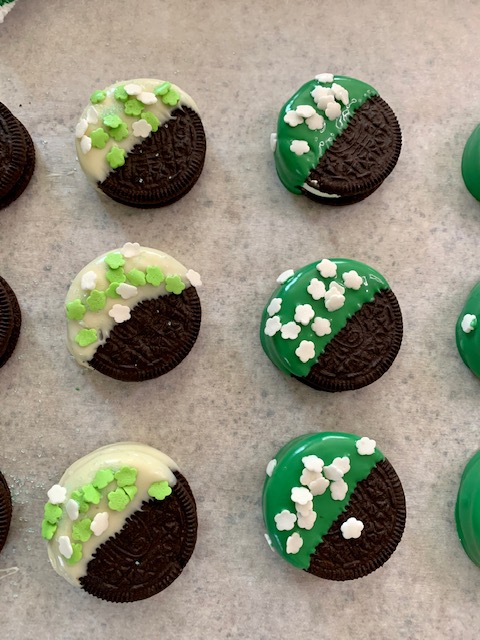 Directions:
In separate microwavable bowls, melt the green candy melts and white chocolate chips separately on high for 30 second intervals until the chocolate is melted.
Take one Oreo out of the package. Dip 1/2 of the Oreo down into either the white or the green chocolate.
Lay the Oreo on the wax paper and immediately add your color choice of sprinkles so they will stick to the chocolate before it dries.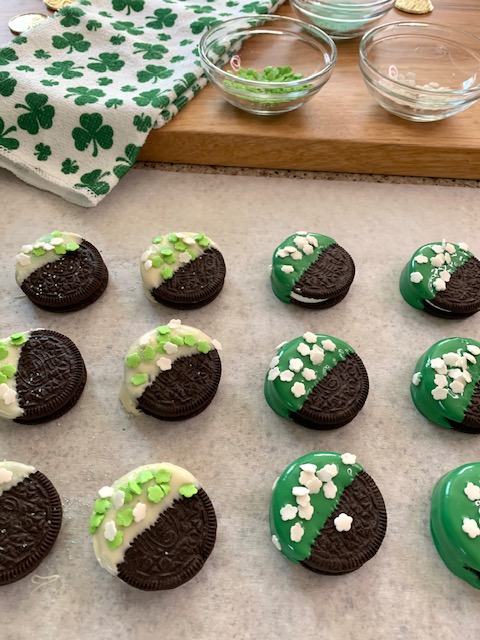 You can make as few or as many as you like. It doesn't take them long to dry, so you'll be able to quickly transfer them to a dish to serve immediately or pack them for transfer.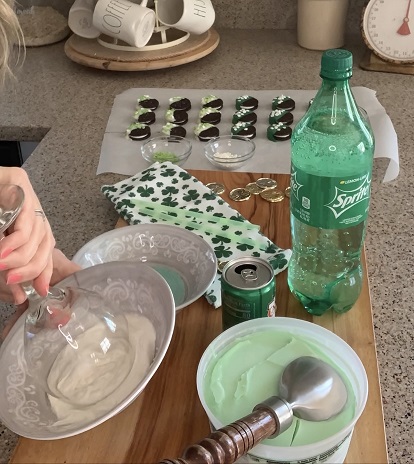 I was a bad blogger, and totally forgot to take a good photo of the Leprechaun Punch ingredients. I had done some video of the process for Instagram (saved in hilights on my Instagram page @athomeinthewildwood if you'd like to see it). But all you need for a large bowl of this punch is a 2 liter Sprite, 2 liter Ginger Ale, and 48 ounces of lime sherbet.
Because I was just making this drink for me and the Mister, I just purchased a quart of the sherbet. Any brand will do and you can also use a different color of sherbet for another theme.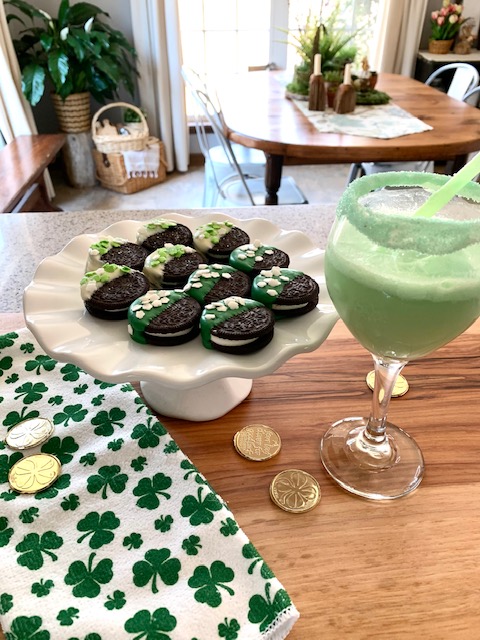 To make my glasses pretty, I used the same technique I did for my Galentine's Day Mocktails. For that, you just need white frosting and sugar sprinkles in your choice of color.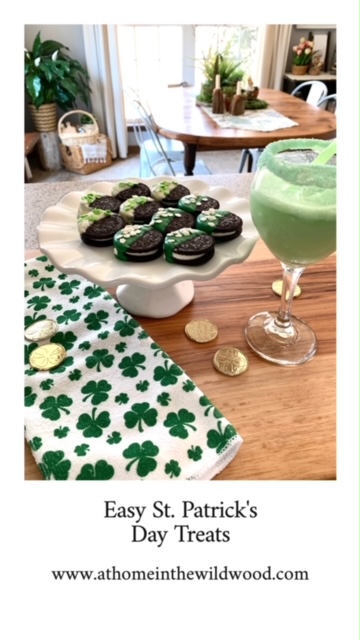 St. Patrick's Day is this week and you've got plenty of time to run to the store to get the few ingredients you will need. Don't forget to save this pin to your Pinterest board for easy reference. Hope you enjoy!