How to Make and Can Homemade Salsa
Follow this easy step-by-step tutorial for our canned tomato salsa
We love our tacos, enchiladas, and chips/salsa around here! So much so, that we run out often. We also have a hard time finding our favorite salsa in our local grocery store, so we decided to make our own 🙂
If you're looking for a homemade salsa of your own, here's how we made ours.
Instructions for our Homemade Salsa:
The first thing you want to do before starting the canning process is to wash off your tomatoes to remove any dirt or debris.
When selecting tomatoes for a salsa, keep in mind that a paste type tomato, such as Roma tomatoes, are excellent choices for canning. They are fleshier and have less water inside, so this gives you a thicker salsa with less reduction time. We purchased a 25 pound box of tomatoes at our local market for this batch.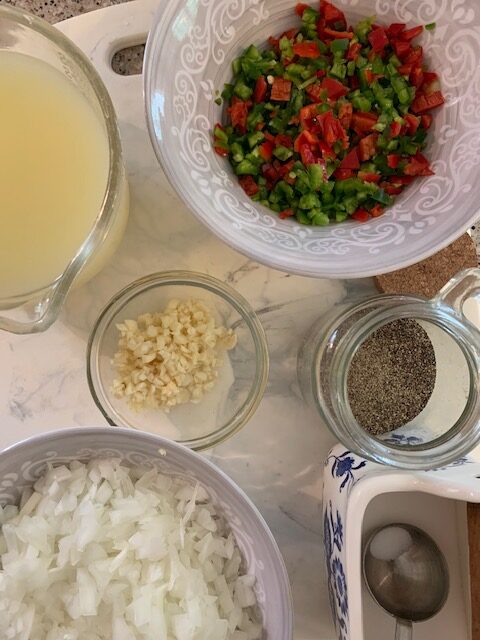 Go ahead and have all of your measured ingredients on the counter for easy access to incorporate in the salsa as needed.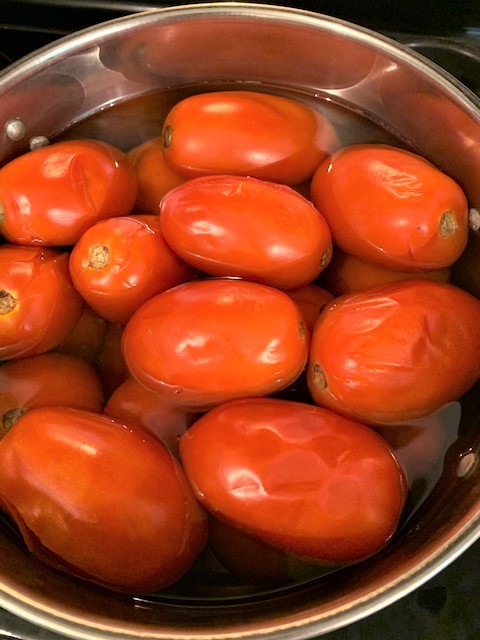 After washing your tomatoes, you will want to boil the tomatoes in a large pot to help loosen the skins for easy peeling. When skins start to pull away, turn off the burner and allow them to cool a bit before handling.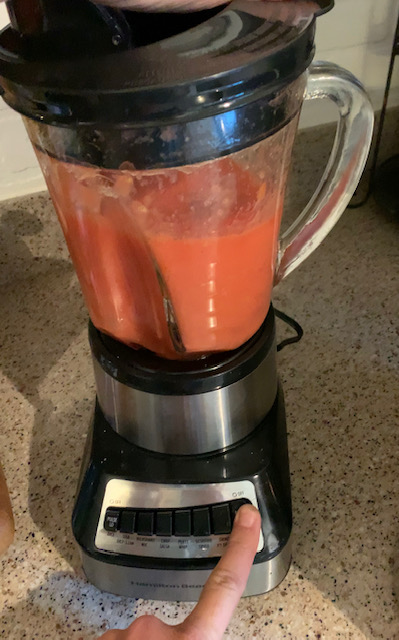 After removing the skins off of the tomatoes, add them to a blender and pulse to liquify.
As you complete this step, add the contents of the blender to a large pot on the stove, slowly warming it as you go. When you get a pot full, you are ready to add the other ingredients. Heat to a simmer and allow the liquid to reduce until the salsa is as thick as you would like it.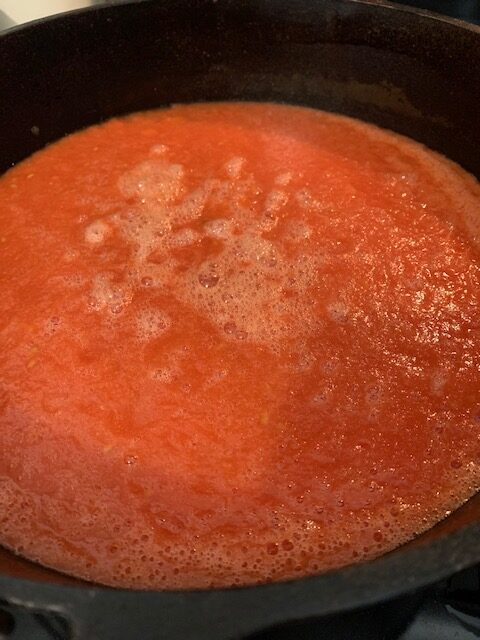 If you keep track of how much liquid you end up with, this will help you know how many jars to prepare for canning.
When making our salsa, we added all of the ingredients to the pot to cook while it was reducing except for the dried oregano, ground cumin, and fresh cilantro. We added those at the very end before putting the salsa into the jars.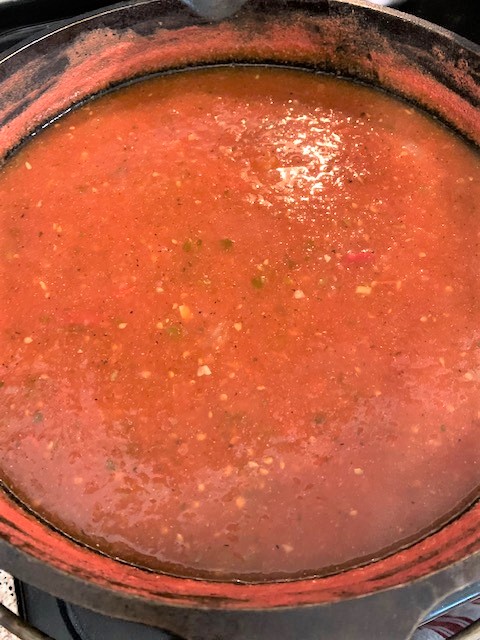 We had our jars, lids, and rings ready to go at the time we started the canning process. Some people prefer to do this in the dish washer, but we like to warm our lids and rings in a pot of water on the stove top and keep warm while making our salsa. After our jars were washed and dried, we warmed them in a 180 degree oven before starting our salsa. Even after turning the oven off, the jars stayed warm and ready in the oven until we needed them.
When the salsa was done, we added it to each jar, leaving 1/2 inch headspace for water bath canning.
Run a spatula around the circumference of the jar to remove any air bubbles. Then using a clean damp cloth, wipe the rim of the jar clean. Place the lids and screw down the bands fingertip tight.
If you've never done water bath canning, I shared how we water bath canned tomato sauce here.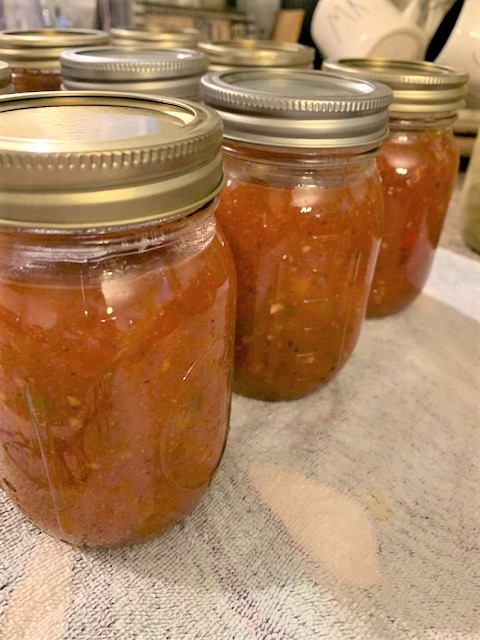 Our 25 pound box of tomatoes yielded 19 pints of homemade salsa for us, giving us enough for a whole year and then some.
Homemade Canned Salsa
Ingredients to Make Homemade Salsa
Ingredients
25

lb

box Roma tomatoes

6

cloves

garlic

1

large

onion diced

1 1/2

jalapeno peppers seeded and chopped

1 1/2

chili red peppers seeded and chopped

1

cup

lemon juice

3

tbsp

salt

1

tbsp

pepper

2

tbsp

dried oregano

2

tbsp

ground cumin

3

tbsp

fresh cilantro

2

tbsp

garlic powder
Instructions
Pick or purchase 25 lb paste tomatoes

Prepare jars, lids, and rings for canning

After washing tomatoes, boil on stove top until skins start to pull away.

After tomatoes have cooled enough to handle, pull skins off and add tomatoes to blender to liquify for your sauce. This will have to be done several times, depending on the size of your blender.

Cook sauce on stove top and allow it to reduce unit it is the thickness you desire for your salsa.

*Add all ingredients at the beginning when cooking the salsa except for the oregano, cumin, and cilantro. Add those at the end right before putting salsa in cans.