Homemade Air Fryer Pop Tarts for Valentine's Day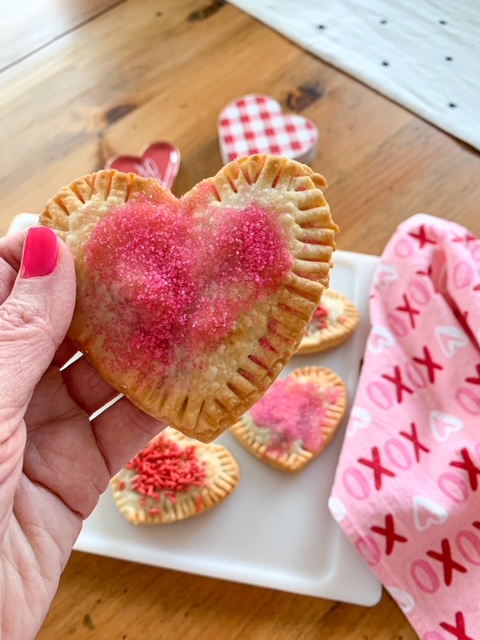 Update: I also made Air Fryer Pop Tarts for Easter using an egg shape!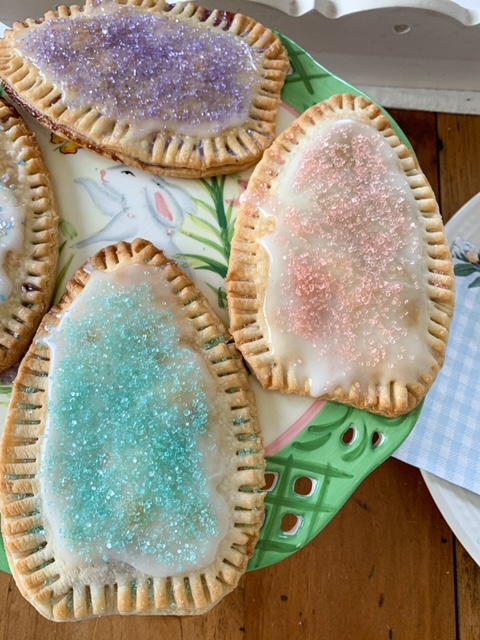 I've never met anyone who didn't love a good ole pop tart!
If I told you that you can make your own yummy pop tarts right at home, would you believe me?
Yes! If you've got an air fryer, then you can make easy homemade pop tarts any time you want them.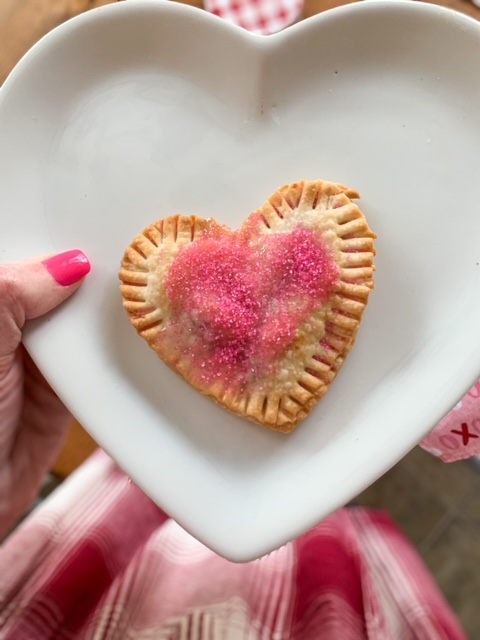 There are many recipes online to choose from, but I love Leanna's adorable pop tarts she made last year for her children for Valentine's Day.
I knew when I saw them that I wanted to try it this year, and that's exactly what I did today.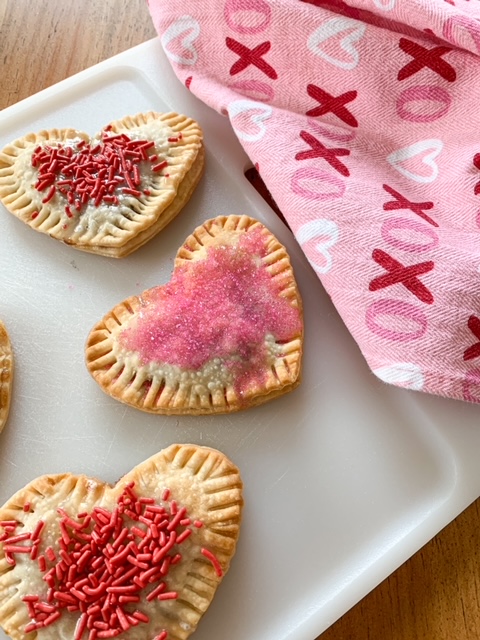 This year, Valentine's Day is on a Monday, and since Mister will be working that night, I thought it would be fun to do a simple Valentine's Day brunch for us to enjoy that morning.
Not wanting to have a new recipe flop, I decided to have a trial run early.
That's why I'm sharing them with you today. You've got plenty of time to get to the store to grab the few ingredients you need.
Ingredients:
Refrigerated or homemade pie crust. I purchased the Pillsbury Pie Crusts (2 per box) to try the first time. I had planned to make my own crust next time, but these were so easy and delicious that I think I'll stick with them again.
1/2 cup strawberry preserves (or your choice of fruit)
1 cup powdered sugar
2 tbsp milk
1/2 tsp vanilla
colored sprinkles of your choice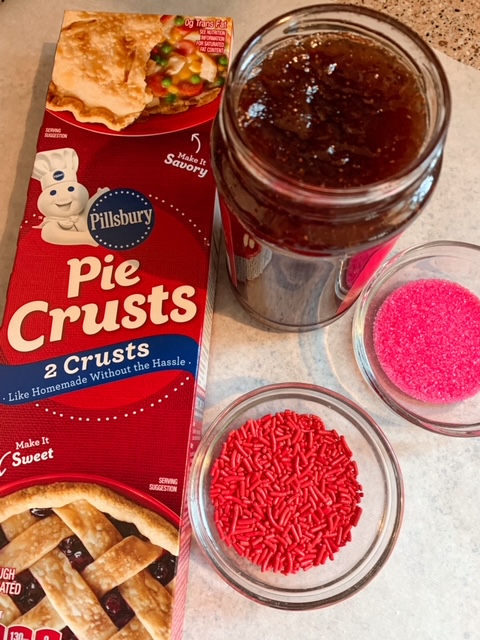 Instructions:
Roll pie crust onto wax paper and cut your heart shapes (the number of pop tarts you make will depend on the size of the heart cookie cutter. I used a large heart shape and both pie crusts to make 6 pop tarts total.
Spread preserves onto a pie crust. Be sure to keep away from the edge for sealing.
Place another cut out pie crust shape on top. Basically, you're making a heart sandwich 🙂
To seal the pie crusts together, use a fork to mold the shapes together. Wet the fork with water periodically to keep it from sticking to the crusts.
Spay the air fryer with cooking spray. Place your pop tarts in the fryer and cook on 400 degrees for 3-4 minutes (My air fryer would easily have room to cook up to 4 pop tarts at once).
Remove them from the fryer when they are golden brown and make your icing.
To make the icing, mix the powdered sugar, milk, and vanilla together in a small bowl.
Using a spoon, drizzle the icing on top of the pop tarts and then add sprinkles or your favorite toping. The icing will be opaque, so the sprinkles add a fun pop of color.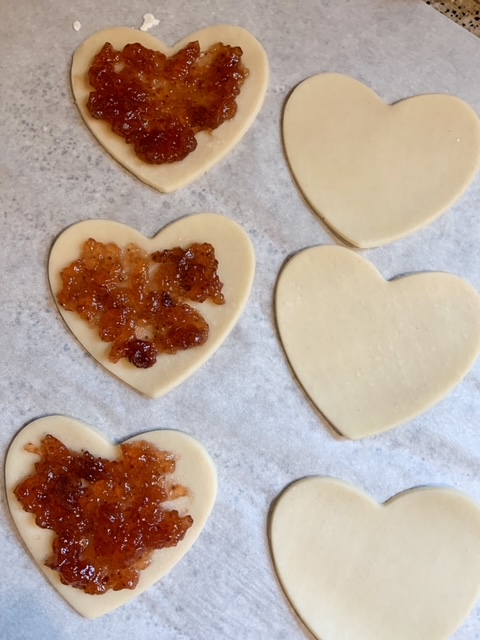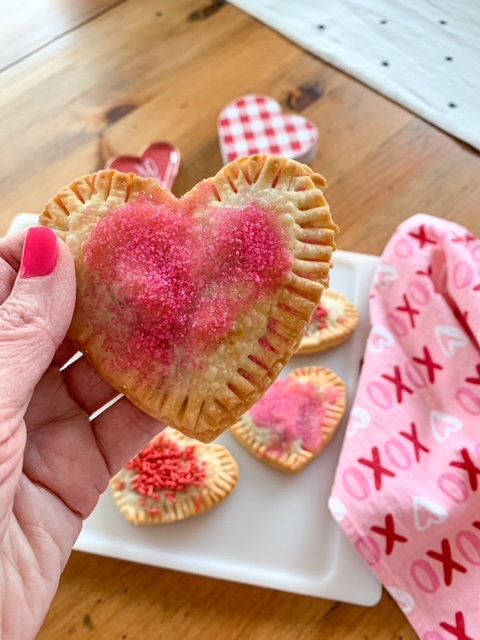 This pop tart recipe can be used to create pop tarts for all of the holidays. Just find a cookie cutter in the shape you want and add sprinkles in the color of your theme. And of course, you could make the traditional shape pop tarts as well. Just have fun with it!
Pin Image Now and Save for Later!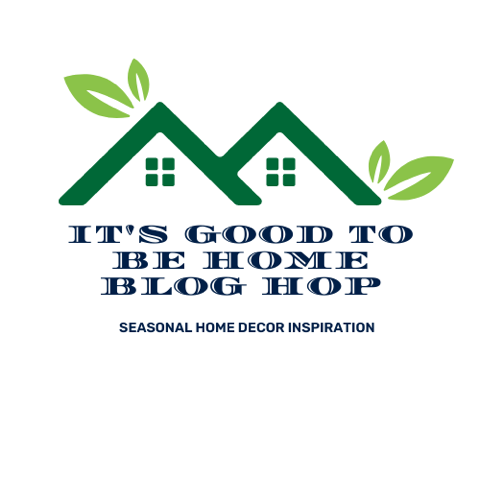 It's time for our monthly blog hop "It's Good to be Home". I hope you'll go check out the amazing content my sweet friends are sharing today on their sites. Just click on each of their names under the photos and you'll be right there 🙂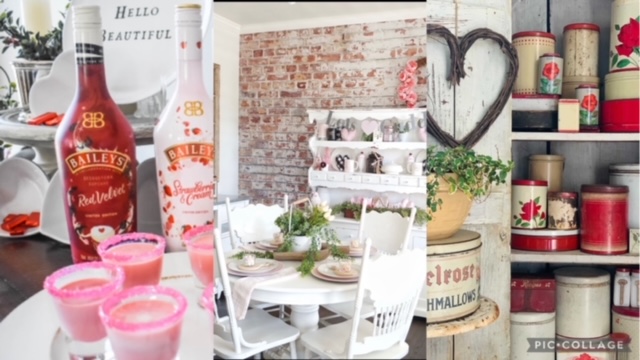 Jenron Designs/ Southern Spangled/ My Weathered Home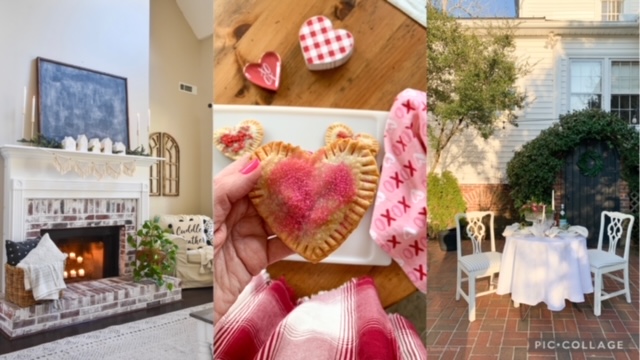 The Frugal Homemaker/ At Home in the Wildwood/ Robyn's Southern Nest