Baked Hummingbird Oatmeal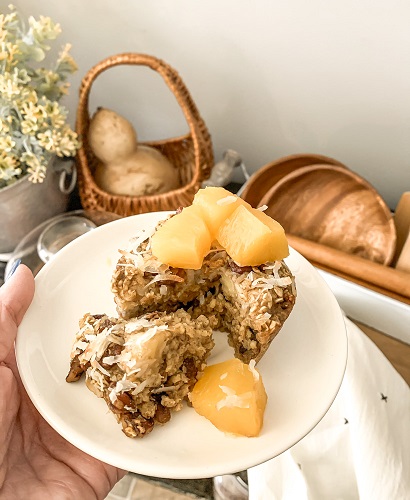 Are you an oatmeal lover like me?
If so, have you ever tried a baked oatmeal?
Recently, I saw a recipe in the September issue of Better Homes and Gardens magazine for Baked Hummingbird Oatmeal and I had to try it!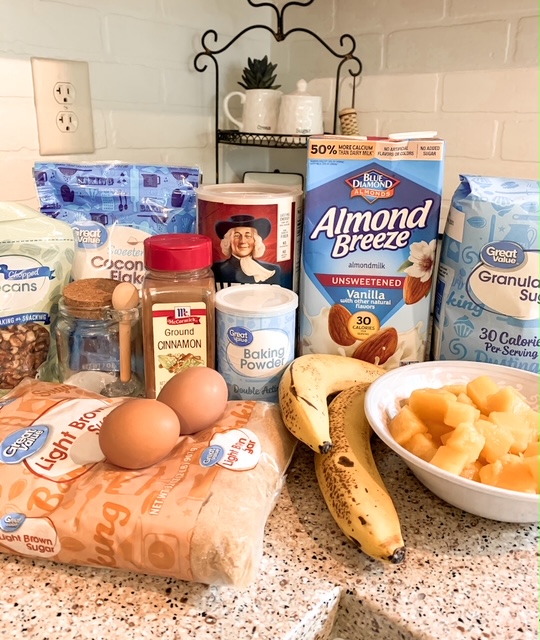 The recipe is made up of simple ingredients that are not hard to find.
You probably have many of the ingredients in your pantry already.
Ingredients you will need for this recipe:
2 cups rolled oats
1/3 cup brown sugar
1 tsp baking powder
1 tsp ground cinnamon
1/2 tsp salt
1 cup milk or nondairy milk
2 bananas cut up
2 lightly beaten eggs
1 cup chopped toasted pecans
1 cup of pineapple
flaked or shredded coconut to sprinkle on top
One of the ingredients is toasted pecans. If you've never toasted your own pecans, it's really easy to do.
For one cup of chopped pecans, I melted a tablespoon of butter in the microwave.
Then I combined the nuts with the butter and added 3/4 teaspoon of salt.
Mix these three ingredients well and then spread on a baking sheet and bake in a 325 degree oven for 25 minutes, stirring once at the halfway point.
Once the pecans are toasted, you're ready to start the recipe for Baked Hummingbird Oatmeal.
Blend all of the ingredients together, except the coconut, pineapple, and granulated sugar.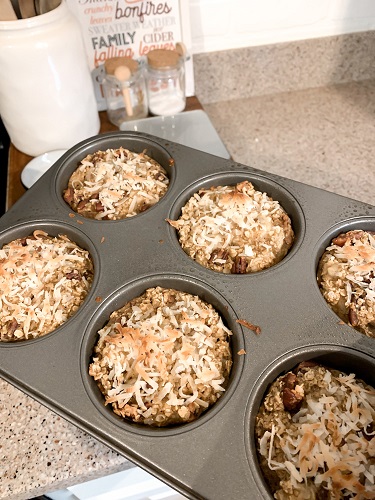 After ingredients are mixed well, spoon into four 10-12 ounce baking dishes if you're going specifically by the recipe.
I didn't have any small baking dishes on hand, so I opted for an extra large muffin tin.
Before putting it in the oven to bake, top each one with coconut.
Because I made large muffins, I just sprinkled coconut on the tops of each one.
If you're going by the Better Homes and Gardens recipe, make sure you top each baking dish with 1/2 cup of coconut.
While the oatmeal was baking, I mixed together the pineapple and granulated sugar.
I didn't have fresh pineapple on hand, so I used diced pineapple from a can and it still tasted great.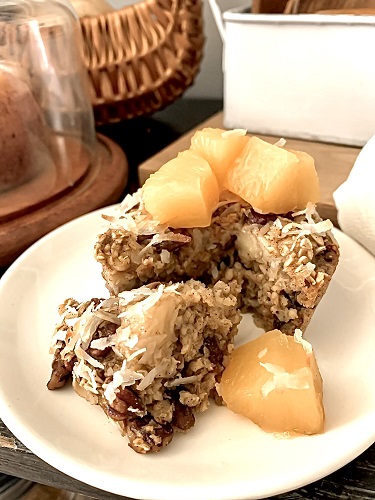 The juice from the pineapple and sugar mixture melted into the hot muffin and made it even tastier!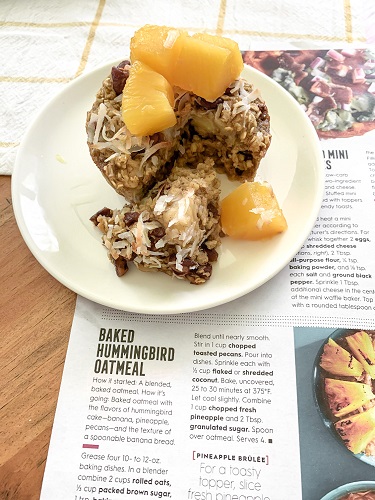 Baked Hummingbird Oatmeal is a great alternative to the traditional Hummingbird Cake and is the texture of a spoonable banana bread.
Pin the image below for later and come pin along with me at HERE.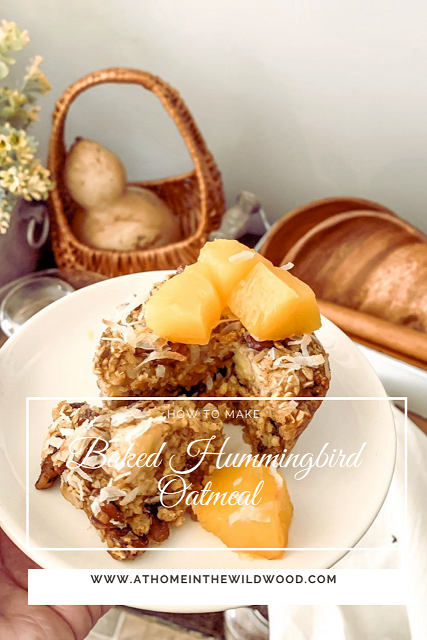 Today, I'm so honored to be joining some talented bloggers, (and my sweet friends), for WELCOME HOME SATURDAY.
You will definitely want to go and check out their posts for today. I've shared a glimpse of them for you below.