5 Ways to Style Your Home for Fall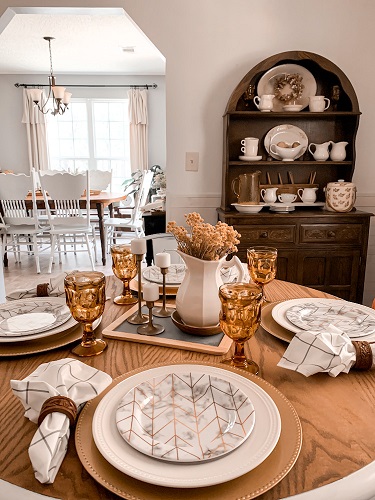 It's not officially fall yet here in South Georgia, but my mind has already started planning my fall look for the season.
Before pumpkins make their way on the scene, I like to do what I call "transitional decor".
Without going all out with the traditional colors of fall, I start removing bright summery or pastel colors in each room and add more neutral, earthy tones to my spaces.
As the season progresses, I'll introduce more traditional fall colors with shades or orange and gold, but when it comes to styling my home for fall at any point in the season, there are five ways I recommend to style your home for fall.
Five Ways to Style Your Home for Fall
1. Add neutral, earthy tones to your spaces
I already mentioned bringing in more neutral, earthy tones into my home for the fall season.
If you look around nature in each season, you will be given natural color choices to choose from to decorate with for that season.
For fall, you will see these earth tones all around you as flowers begin to fade and leaves turn, so I take my que from nature.
I add browns, creams, warm metals, and wood.
I also love pops of rust color and burgundy.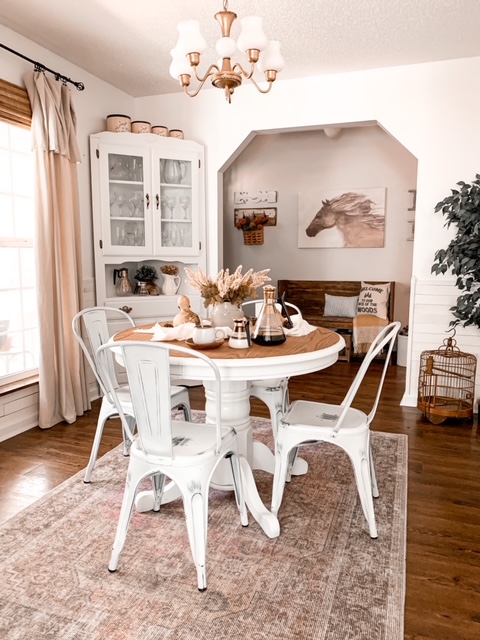 This post contains affiliate links.
If you click on these links and buy something, I make a commission at no cost to you.
I have to give a shout-out to Boutique Rugs. I recently tried one of their new washable rugs in our dining room space, and I absolutely love it!
With a new puppy in the house, it's great to have a washable option.
And guess what? I've got a discount code for you to use on your own purchase with Boutique Rugs.
Use code LANGFORD60 for 60% off your order.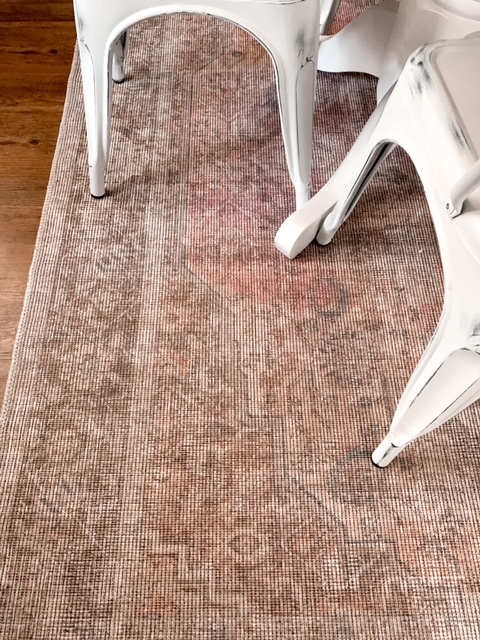 2. Add warm tones such as brass, copper, and amber glass.
I also love to add in the warmth of wood tones and the texture of baskets in my fall decor.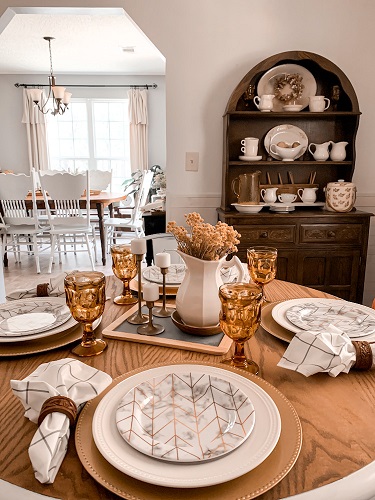 3. Add cozy, fall colored throws and pillows.
I change out my throw blankets and pillows in the living room each season, making sure to use colors in my fall color scheme.
This year, I even added a couple of pillows and a throw to the dining room chairs to soften up the hard lines in the space.
Rugs are also a good option, and this cow hide rug in dark brown, tan, and cream is so cozy under the table.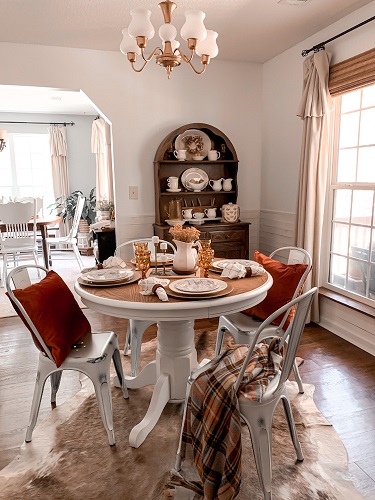 4. Incorporate dried grasses and florals
I still need to purchase a few things for fall in the way of florals/grasses, but you can see from the photo below how a fall floral adds just the right touch to a vignette.
Feathers, "cat tails", and dried Pampas grass stems are some of my favorites right now.
5. Add fall scents to your home to welcome the season.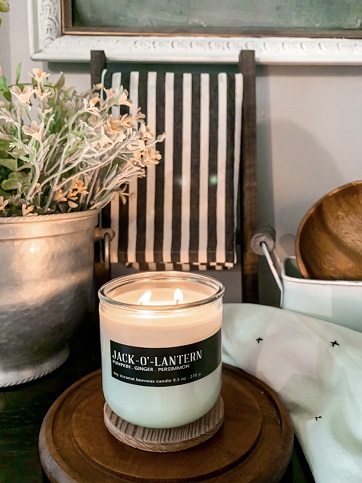 My favorite candles are made from 7th Street Salvage. Their custom scents are the best!
If you've never been to their flagship store or the newest location on 2nd Street in Macon, Georgia, you don't know what you are missing.
They have a large selection of salvaged goods in their warehouse on 7th Street and the best gift ideas at their new location.
They even just added a bakery to the new store! I can't wait to visit again soon!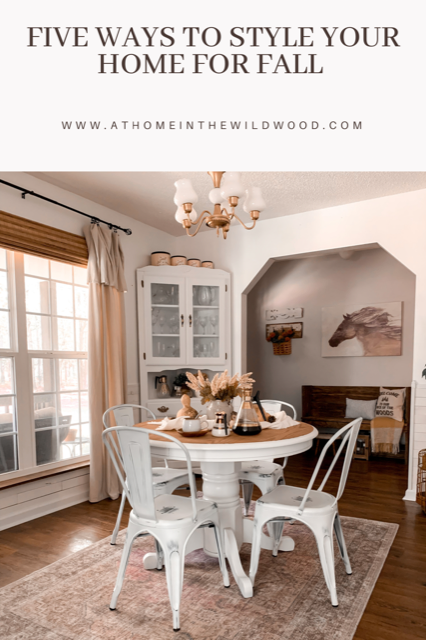 I hope you are as excited about the fall season as I am!
It's been a long, hot summer here in the south and I'm so ready for pumpkins, football and hot cocoa!
Interested in more neutral fall decor ideas?
Check out this neutral fall tablescape I did last year.
Today, I'm so excited to share a blog hop that I'll be participating in each month with a few of my friends!
I hope you'll follow along each month for the "It's Good to be Home Blog Hope".