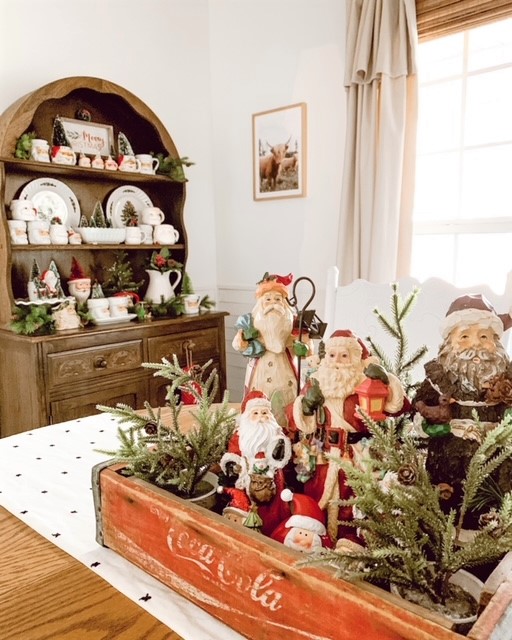 Hey, there friends! And happy holidays to you! I don't know about you, but it truly is my favorite time of the year!
I just can't figure out how the year flew by so fast and we're already in December!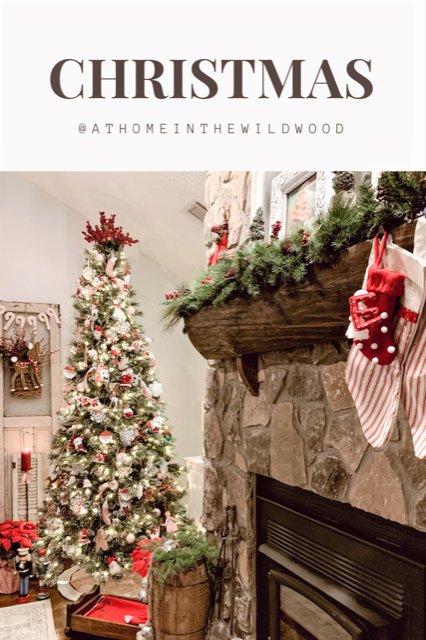 How many of you plan out what you're going to do with your holiday decor each year?
Sometimes, I have a few things in mind I want to try, but I really never know how I'm going to decorate a space until I get all of the boxes out of the attic and start going through them.
Some how, though, nothing ever looks exactly the same each year ….lol!
One thing that was definitely different this year was the front foyer.
We recently did a diy board and batten project in this space and it gave me so many more options on how to style it.
I'll blog all those details soon so you can see how we did it.
I also shared a reel on my Instagram of the process, so if you like watching videos, go and check it out here.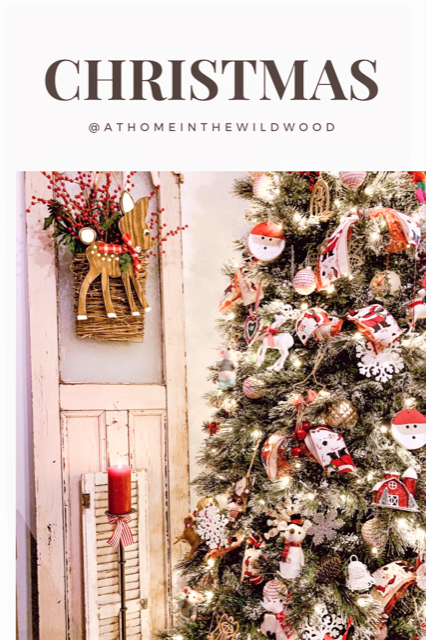 This year, I was inspired to do a Santa themed Christmas tree.
There are other more vintage inspired ornaments on our tree as well, but the overall theme is red and white, symbolic of Santa's suit 🙂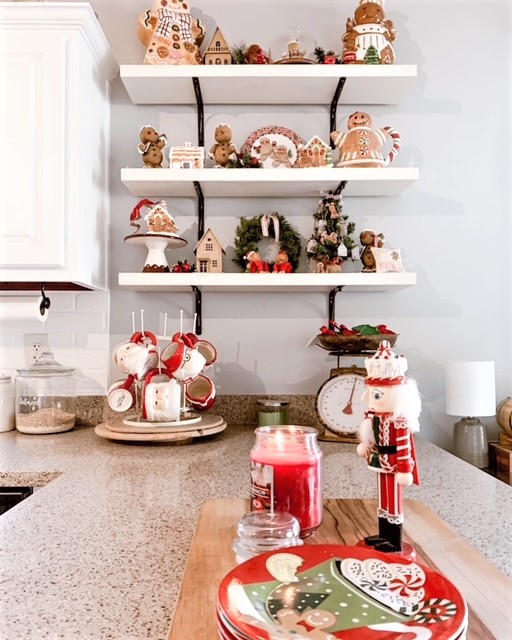 I have one collection that I look forward to getting out each Christmas, and that's my gingerbread men and houses.
Nothing says "Christmas" to me like gingerbread in the kitchen.
This year, I chose to put them on my open shelving, and I love having them in full display where they're so easily seen.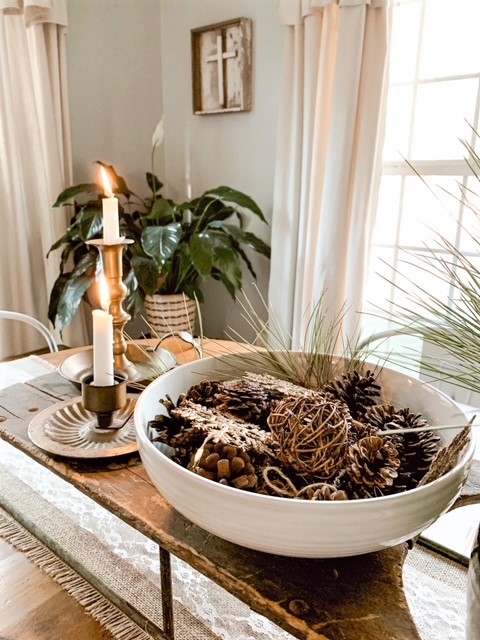 As much as love the traditional colors of the season, I like to keep some spaces more neutral.
This year, I used my antique sled as a centerpiece on the breakfast room table.
Topped with vintage brass candle holders and a bowl filled with pinecones and a few gold snowflake ornaments, it's a pleasant place to enjoy a meal or a good cup of coffee while looking outside.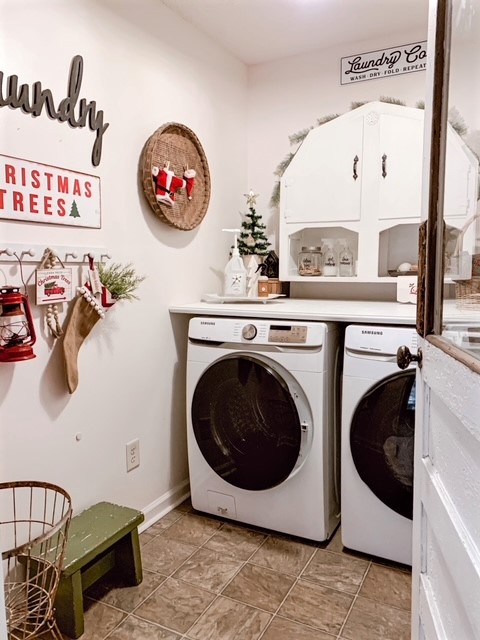 While I don't decorate every single room in our home, I do love adding some Christmas cheer to our laundry room.
When we did a makeover on this space a few years ago, we added an antique door with a glass panel.
The glass allows you to see out of the room if you're in there doing laundry with the door closed.
Lately, I love leaving the light on in this room even when I'm not in there doing laundry.
It allows me to see all of the sweet little holiday touches in this space, and that makes me happy 🙂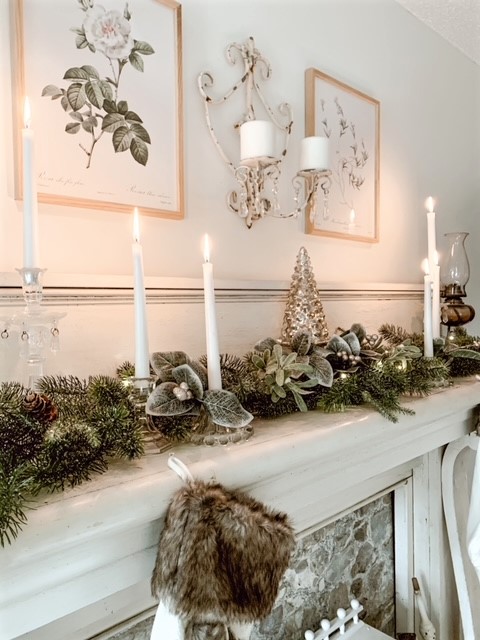 I also love adding a little holiday lighting in the master bedroom.
It was so much fun decorating our antique mantel with a pretty garland and lights this year.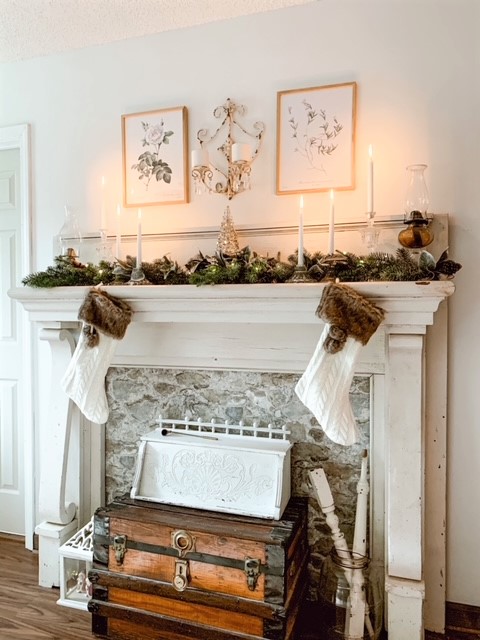 Lots of candles and neutral colored Christmas stockings make it even more fun.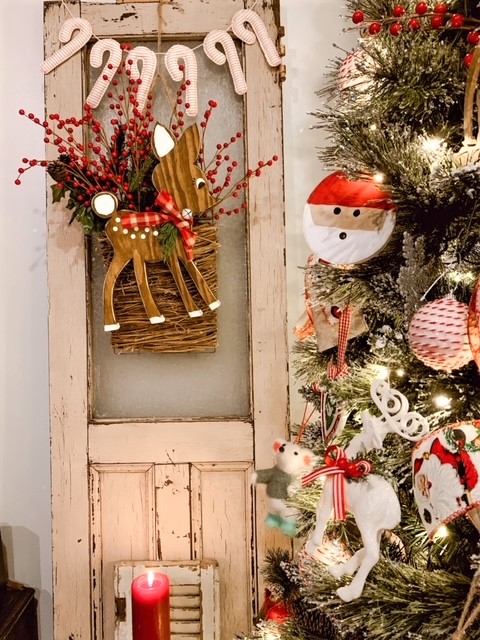 Each year, I use most of the same Christmas decorations, but I don't hesitate to add a few new pieces when I find something I really love.
I found this adorable wooden deer from a small shop on Instagram.
Wooden Sugar has so many beautiful wood products!
I also love that she's a fellow Georgia peach and I love supporting small shops in my home state.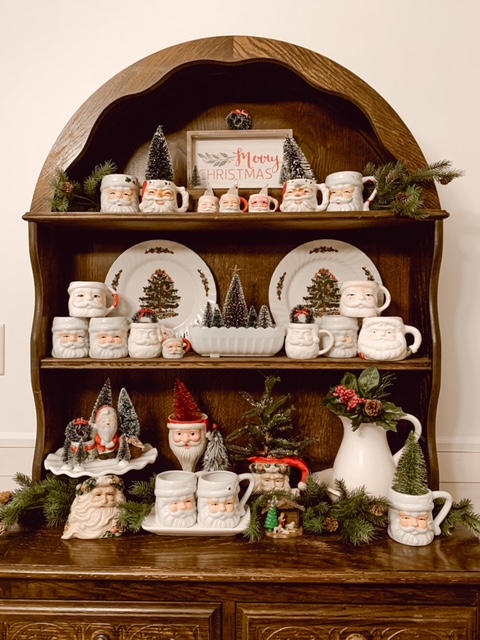 Another one of my favorite collections (hard to choose just one…lol!) is my vintage Santa mugs.
This year, I had the idea to display all of them together on the hutch in the dining room.
I love how it turned out!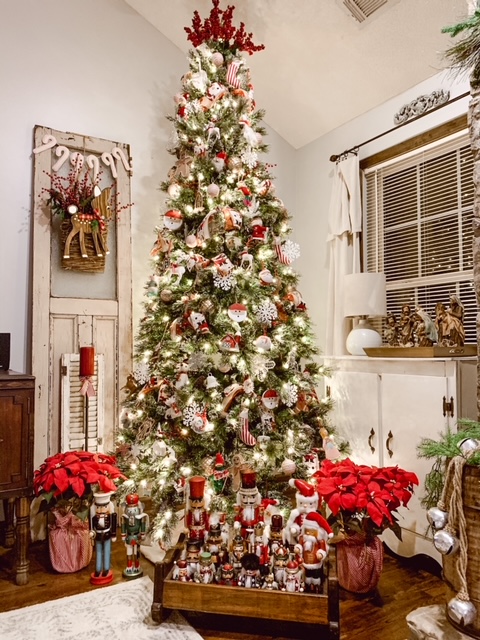 I hope you enjoyed seeing my holiday home and I hope that I've inspired you with a few ideas to implement in your own home.
If you'd like to see our Cozy Christmas Cottage from last Christmas, click HERE.
Lucky for you, today is our monthly It's Good to be Home Blog Hop!
These ladies have really outdone themselves with lots of inspiration for your home for the holidays.
Be sure to click on each of the links below to see their blog posts today.