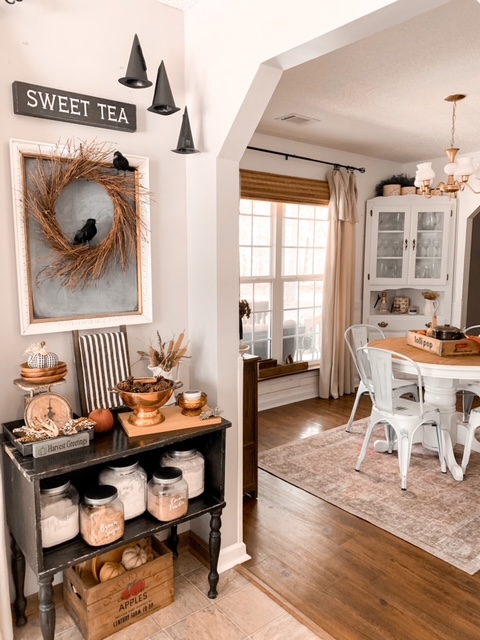 "I'm so glad I live in a world where there are Octobers" Anne of Green Gables
I don't now about y'all, but fall is my favorite time of the year, especially October.
The temperatures finally start cooling down here in the south and signs of the approaching fall season are everywhere.
That means it's finally time to cozy up my home and prepare for the holidays and the coming colder months of winter.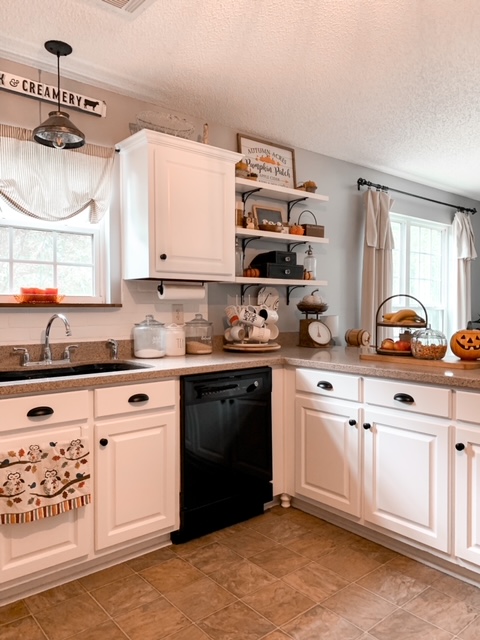 One of the first places I change my seasonal decor is in the kitchen.
The kitchen is the heart of our home and the first room most people see when they visit us.
Because of that, I want it to reflect the current season as well as give them a warm welcome when they enter.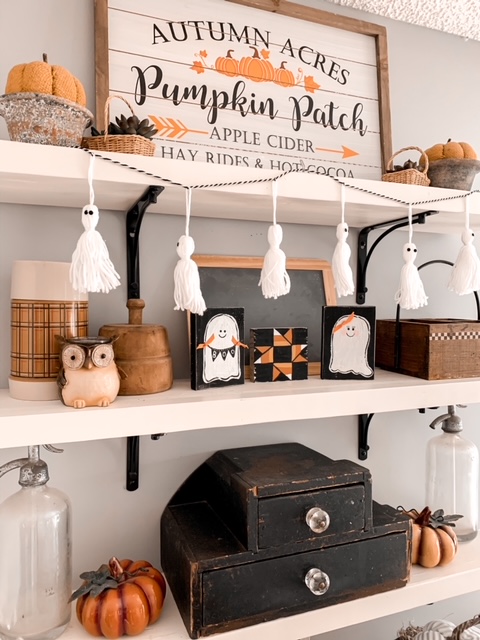 The open shelves over the kitchen bar is the first place I restyle for the upcoming season or holiday.
When decorating for the different seasons and holidays, I typically use items I already have on hand.
I do alot of thrifting as well and try to use original pieces in my decor.
Because of that, it's hard for me to provide links for lots of items I have, but you're in luck this year.
The cute painted wood ghosts and candy corn barn quilt are from a sweet friend I met through Instagram.
She doesn't have an online shop yet, but you can contact her through Instagram to see more of her products if you're interested in ordering some of your own.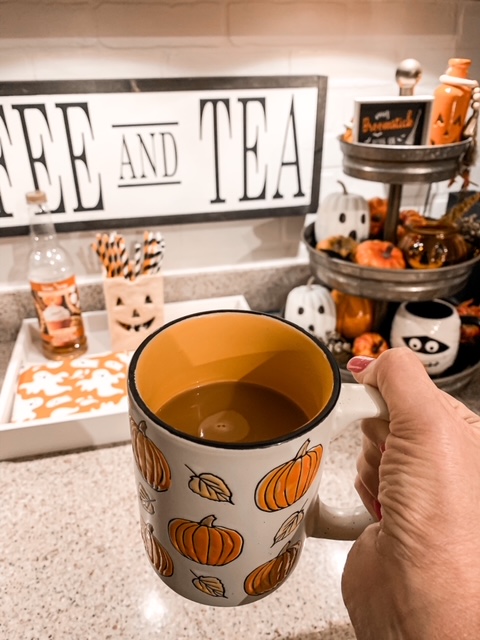 I also like to swap things out on my coffee bar for the different seasons.
As you see here, right now it is styled with some cute Halloween decor.
This adorable pumpkin mug is from HomeGoods.
If you don't have a tiered tray, you're missing out on an easy opportunity to decorate a space that's both cute and functional.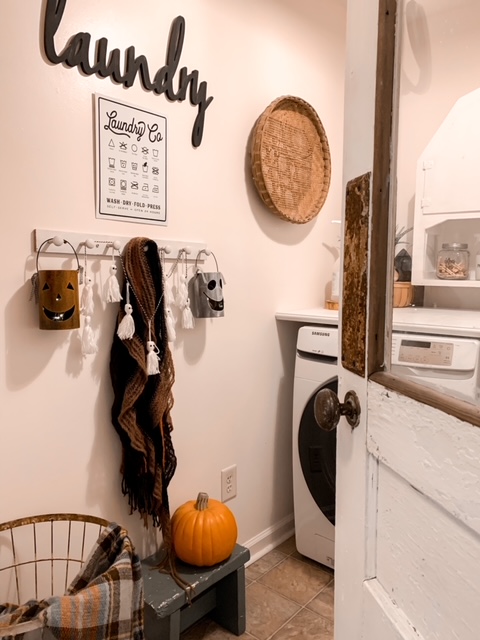 One space many people may not think to decorate is the laundry room.
It doesn't take much to add a little touch of fall in a small space like this.
A faux pumpkin on the stool, cute Halloween lanterns hanging from a vintage peg rack, and a adorable yarn ghost garland adds just the right touch.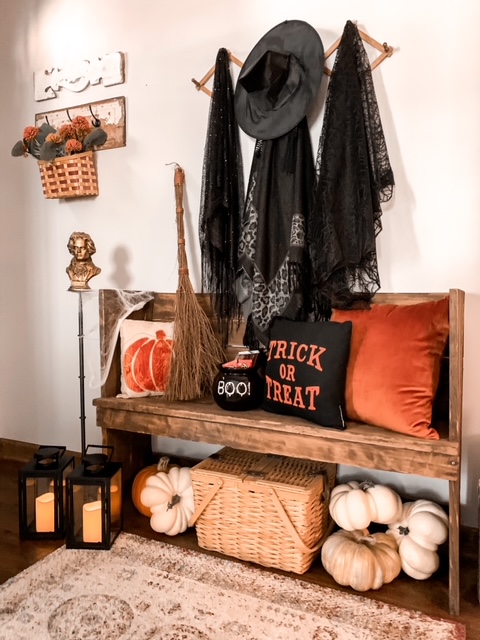 This year in the front foyer, I had a little more fun than usual and made it the perfect spot for a witch to leave her hat, cape, and broom lol 🙂
I have plans to do a board and batten treatment on this wall now that I've moved the hutch into the dining room. I can't wait to be able to style this area for Christmas!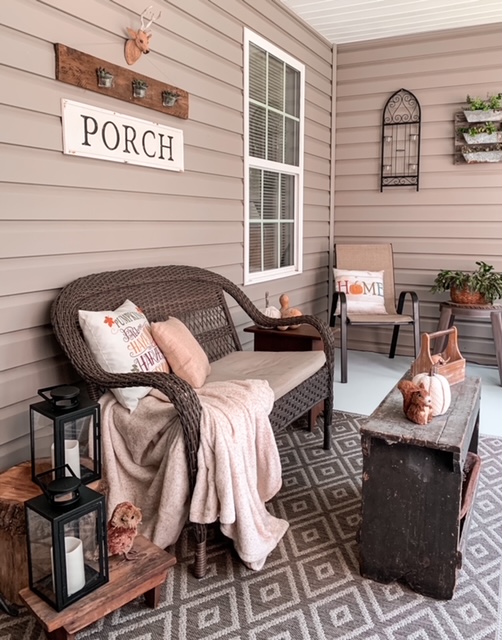 Although I haven't yet decorated our front porch for fall, we're already enjoying our screened-in back porch.
I keep the fall decor neutral out here, but I love adding traditional colors of fall on the front porch once all the real pumpkins make their debut.
Do y'all love going to pumpkin patches? It's so much fun and such a great tradition for each fall season.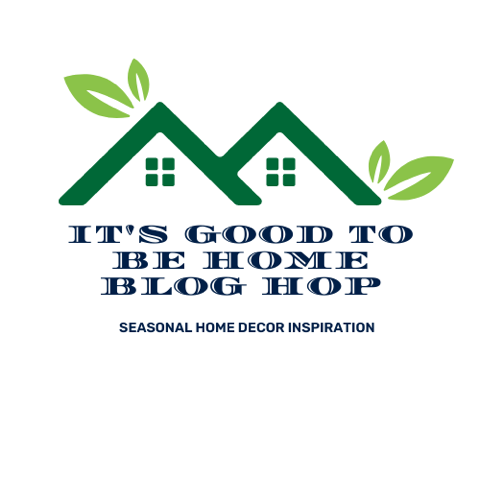 Well, I hope you've enjoyed seeing the fall touches I've added around my home.
I'll add a few more as the Thanksgiving holiday approaches, and then it'll be time to think about Christmas.
But I've got more inspiration for you to see today.
Today on the blog, it's time for this month's "It's Good to be Home Blog Hop" with five of my friends.
Be sure to click on the links below to see what they're sharing today.