Master Bathroom Makeover on a Budget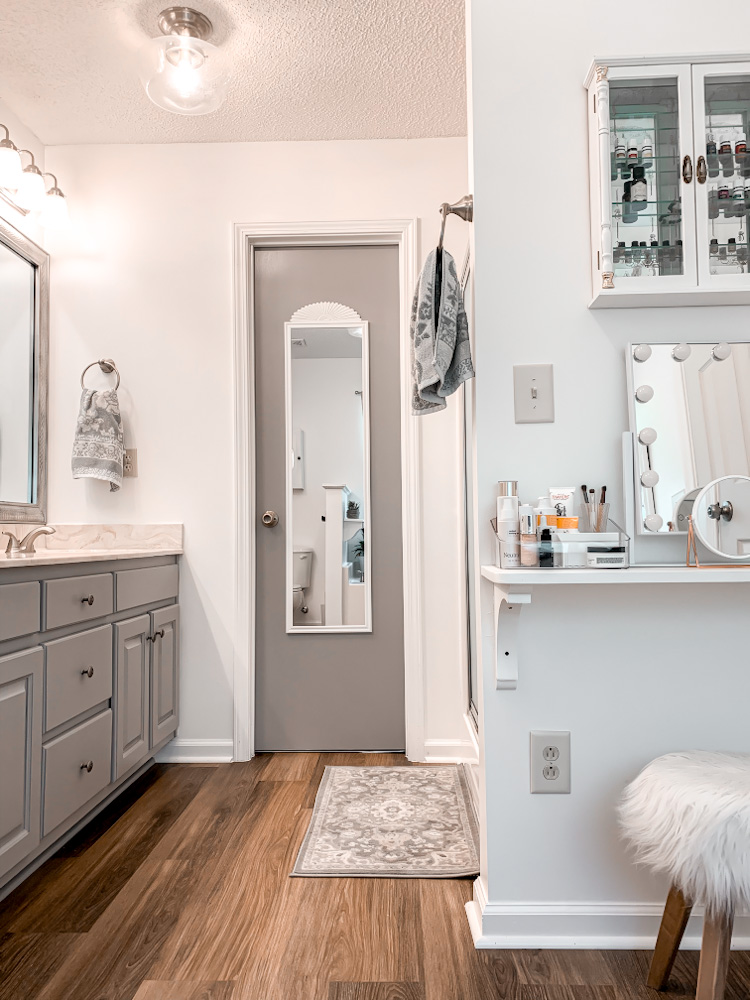 We recently did a makeover on our master bath, and I love the way it turned out!
It's something I've been wanting to do for a while, but I also wanted to do it on a budget, so it had to be just the right time.
I still had some money left on a gift card I won from The Home Depot for the Rustolem Spray Paint Challenge at last year's Haven Conference, so I decided to use it for the biggest purchase….the new flooring.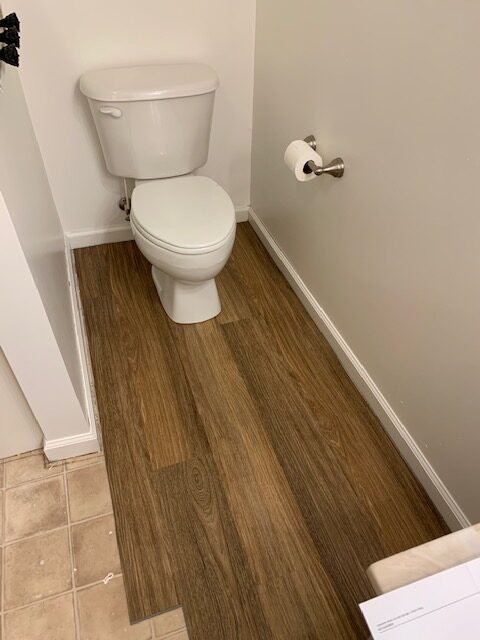 It's Solid Core Luxury Vinyl Plank Flooring from the Home Decorators Collection at The Home Depot.
I chose this beautiful shade of brown called, "Maple Syrup".
It was easy to put down and looks so good in the space!
In addition to new flooring, we added new lighting, and the entire room was also repainted.
But I think one of the biggest transformations for the space was the vanity.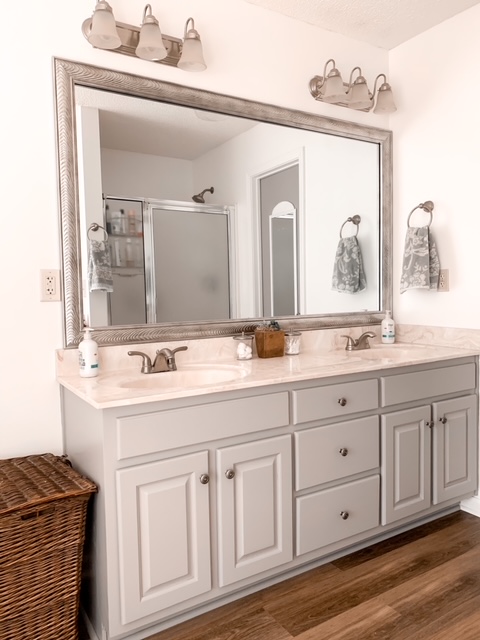 The original vanity was a dark stained maple wood and needed to either be re-stained or painted.
Wanting to add a bit more of a cottage feel to the space, I opted to paint it.
The color I chose is called, "Smokey Wings" by Behr Ultra.
Behr paints are my favorite and I absolutely fell in love with this color!
It's the perfect shade of gray.
But the icing on the cake, so to speak, was the transformation of the mirror.
When we built our home thirteen years ago, I assumed I would get to pick out mirrors for the bathrooms, but the contractor had builder-grade mirrors installed without checking with me.
I decided to try to live with it, but have never liked it.
Then I heard about the company Mirror Mate.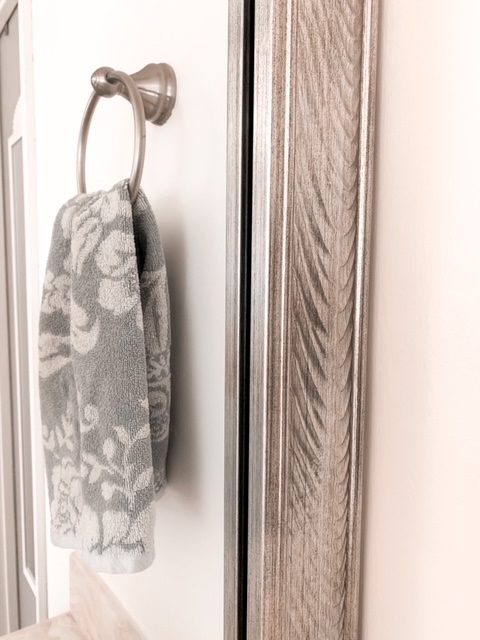 Mirror Mate will send you three samples of your choice free.
There are so many options to choose from, but I ended up choosing Venetian Silver Wave.
I really love how it dresses up the space!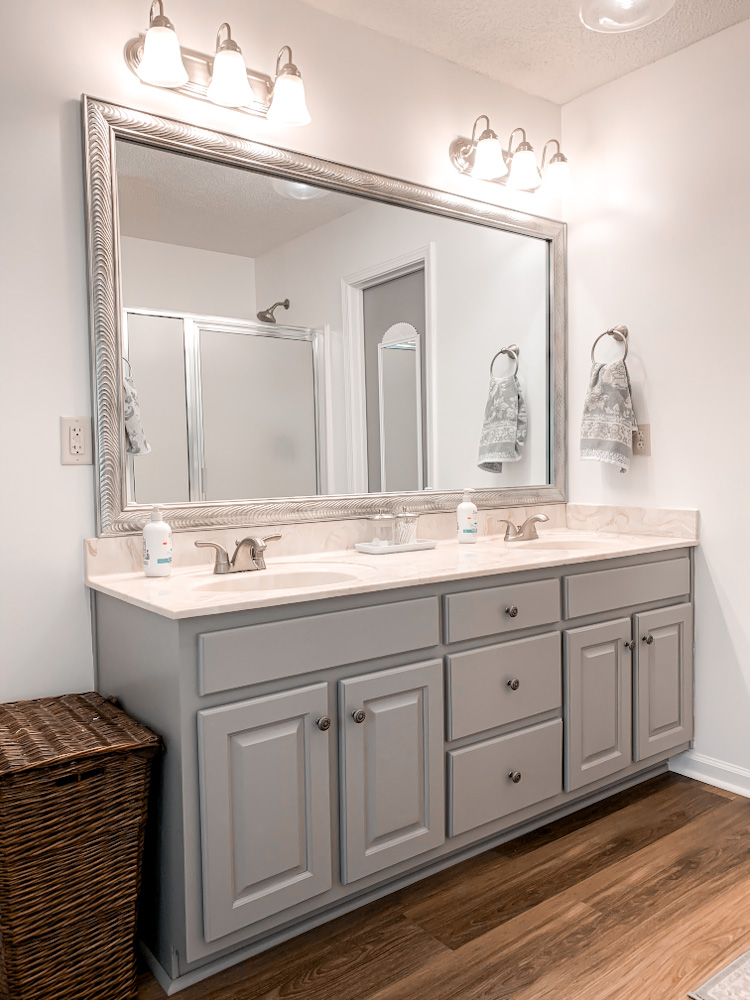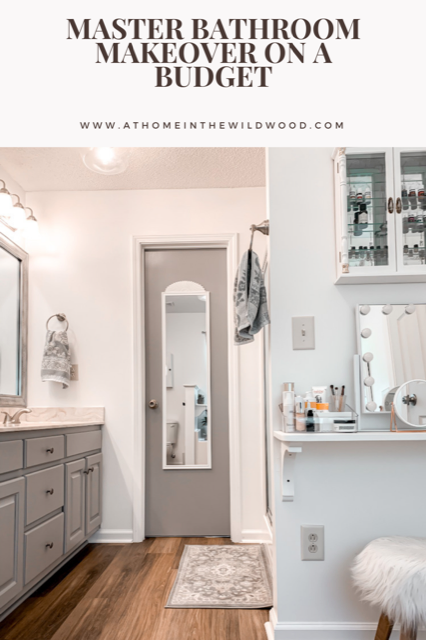 You may have seen a photo I shard before of my cute little vanity table we did as a quick DIY project a year or so ago.
There's just enough room behind the door along the shower wall for this little shelf and brackets to make the perfect space for me to sit and do my makeup.
Am I the only one who refuses to stand and do makeup? lol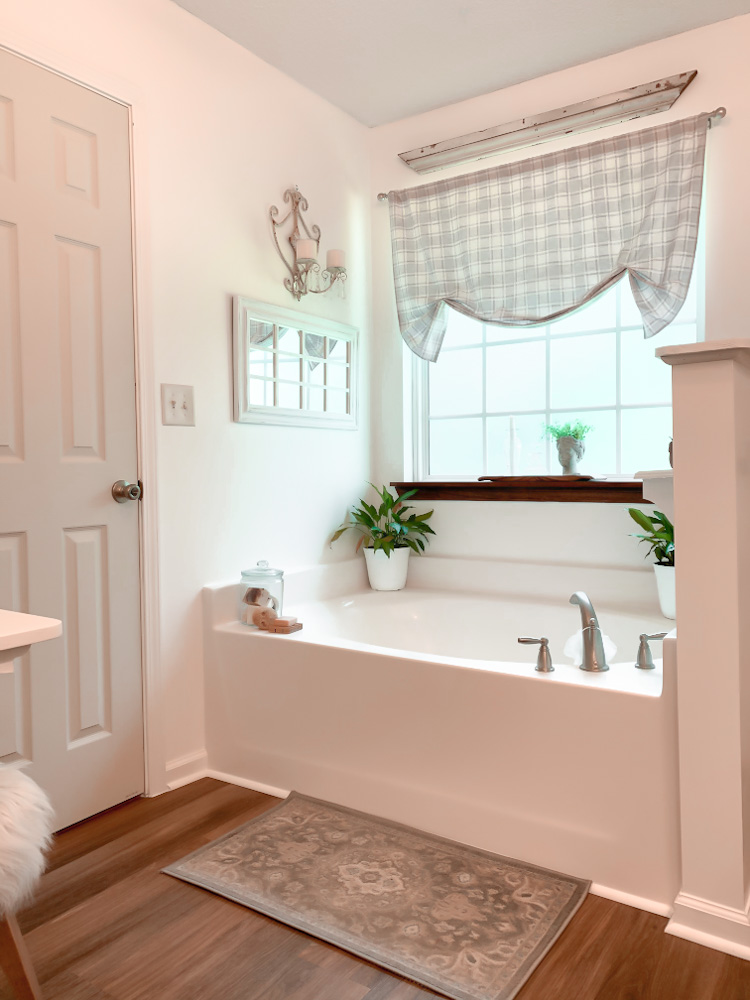 I was able to keep the two little bath rugs I already had and like them even better with the walls painted in white.
They match the color on the vanity perfectly.
My mom is a seamstress and sewed the curtain over the tub area.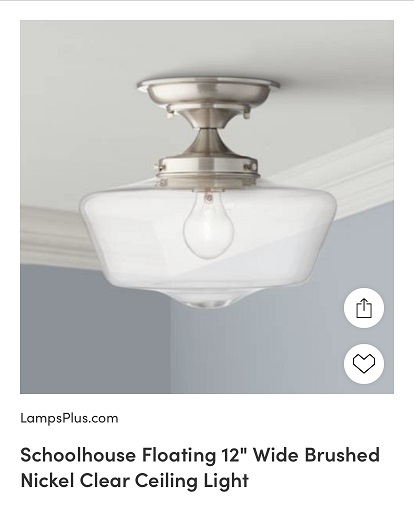 I looked for new lights to replace the two overhead "boob" lights, but never saw anything in stores that I really wanted.
So I started looking online and found these Schoolhouse Floating lights that I loved.
I loved the price too!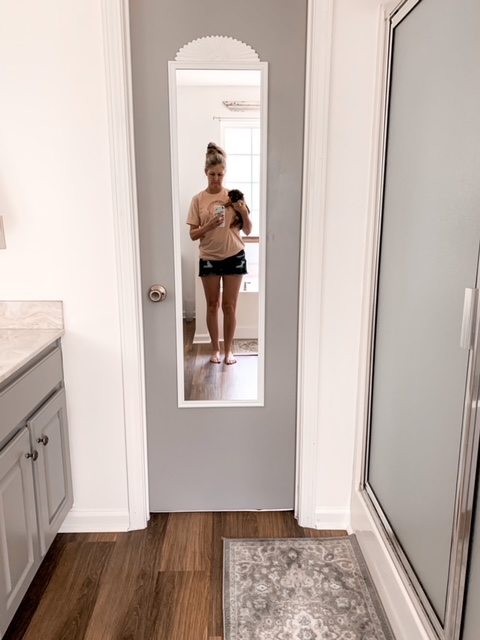 If you follow me on Instagram, you saw me share in stories this DIY Dressing Mirror.
Can you believe I've never had a dressing mirror?!
I really don't have space for one in here or in our bedroom, so I was excited when I came up with the idea to make one on our closet door.
There's a couple of little projects I still need to do in the bathroom.
I still need to paint the door to the bathroom from our bedroom.
We ended up replacing it. It has a beautiful color primer on it, but still needs a coat of paint.
I also want to make my own bathtub tray out of wood.
I love to take bubble baths and it would be super sweet to have a tray to place a book on, a cup of hot tea, or even lay my phone to listen to podcasts while soaking.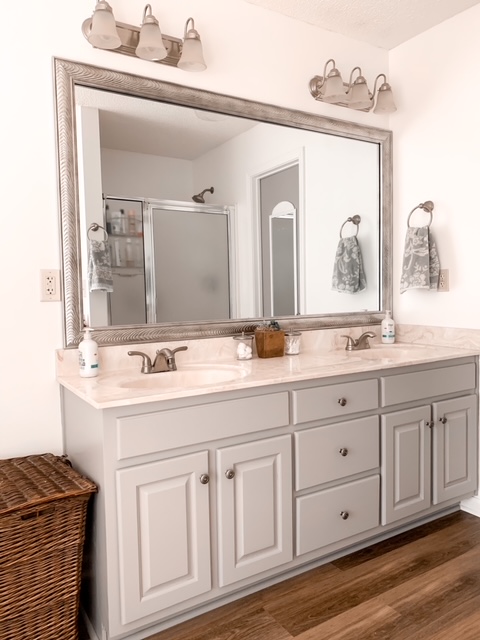 It feels so good to finally have this bathroom project completed! I'm finally enjoying the space as I should.
With cold weather coming soon, I know I'll enjoy those long hot soaks in the tub even more now 🙂