How to Paint your Kitchen Cabinets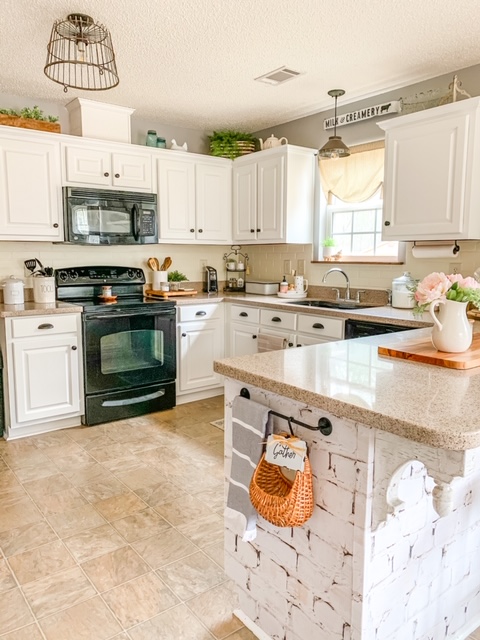 I'm joining a talented group of bloggers at Welcome Home Sunday today. I'm so honored to be their guest feature sharing how I painted my kitchen cabinets.
My first major DIY project for the 2020 year was painting my kitchen cabinets. I knew it would be a time consuming job, but I had been putting it off for many years.
I loved the maple wood my cabinets were made of, but our builder stained them the wrong color, so I was never really happy with them. So I was determined that this would be the year that I finally loved my kitchen!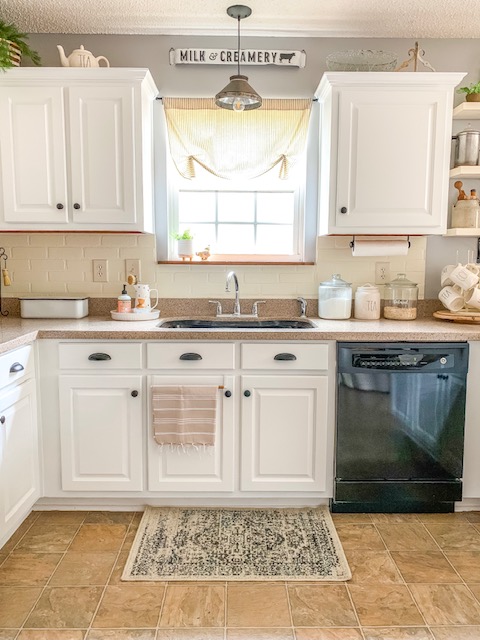 Now that they're done, I'm wondering why I waited so long. Although it is a time consuming process to paint as many cabinets as I have, it was not difficult. Let me share with you the process I used since I'm asked about it so often.
Although it is a time consuming process to paint as many cabinets as I have, it was not difficult.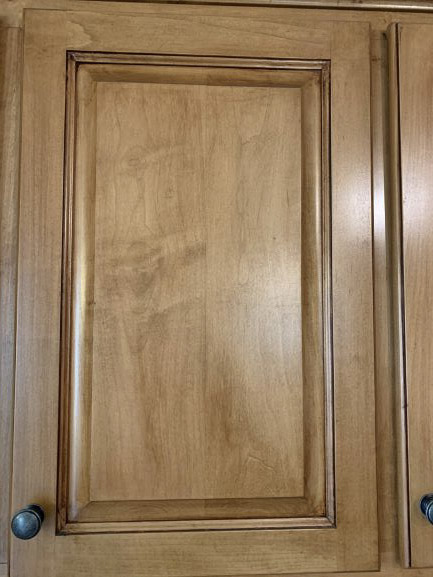 Maple wood is one of my favorite woods. I love that it doesn't have alot of grain in it, so you get a nice uniform color on the whole door front. Although my cabinets were the wrong stain, they also had a glaze over them to age them a bit. That was one thing I did like about them.
I envisioned white cabinets for a long time, but I wanted to make sure I wasn't jumping on the "white kitchen bandwagon". After almost 12 years, I was ready for the change. I chose "Whisper White-HDC-MD-08″ by Behr in Ultra Interior Satin.
How to Paint Your Kitchen Cabinets
Most of the time when you are painting wood that has been previously stained, you have to sand them in order for the paint to stick. In the photo above, you can see I sanded this one down completely except for the inset….that was hard to get to. But fortunately today, we have a few other options so not as much sanding is required.
Chalk paint in one alternative that doesn't require sanding. I've used chalk paint on smaller pieces of furniture before, but I didn't want that type of finish on my cabinets. The kitchen gets alot of use, so I wanted to make sure what ever paint I used would hold up well over time.
There are also "self-leveling" paints on the market that do not require sanding. While I didn't choose that particular type of paint, my paint only needed the surface of the doors to be scratched up just a bit for the paint to stick.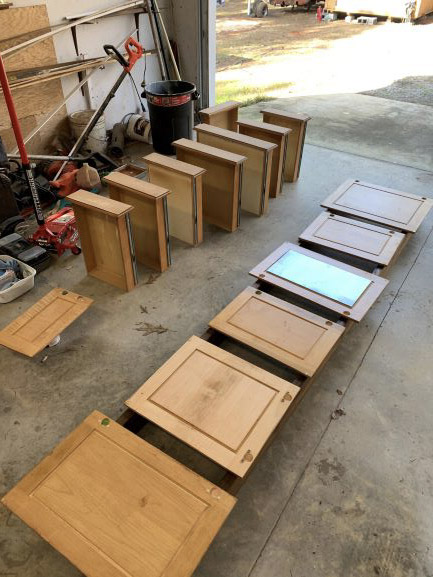 Thankfully, we have a garage we can use for big projects. It was also during the winter time when I did this project, so it was still cold outside. Having the garage for this project was a life saver! By the way, this was also before we did our garage makeover, so it looks nothing like this now. I'll be sure to do a blog post on that as well in the near future. If you're curious, the new garage is posted on my Instagram feed, so you can take a look over there too.
I took off all of the doors and drawers first, being careful to label each one so reattaching them wouldn't be confusing. Someone gave me a tip to use a Sharpie marker and label them on the inside of where the hardware attaches (those little round holes). I did that and put a piece of frog tape down inside the insets to protect them from paint.
I started inside the house and sanded the cabinet faces and painted them first. Then I got to work on the drawers and doors out in the garage. I painted the insides of the doors first. After they were completely dry, I flipped them and worked on the outside. I figured if there was any issue with the paint sticking to the risers they were lying on, I'd rather do touch-up work on the insides of the doors where it's less noticeable.
I used two methods to paint the cabinet doors…..brush and roller. I brushed the inset part of the cabinet first. Then I rolled it being careful to roll over any brush strokes. It took three coats of paint to cover the doors to my satisfaction.
I chose these fun drawer pulls from Home Depot in a black finish. I used the same knobs on the doors from before, but sprayed them in a matching matte black.
I wondered beforehand how we would be able to center them easily on the drawers, but Mister came up with this method and it worked like a charm 🙂
I didn't worry about filling the hole from the previous cabinet knobs. Mainly because you can't see them under the new pull.
I wanted to make sure the area where the stove is vented out was also painted, but I felt like it needed a little more character….something to resemble an old brick chimney. Luckily, we still had a small piece of this faux brick we used on our kitchen backsplash project, so it was the perfect choice for that area. First, I painted it to match the cabinets, and then Mister attached it with a brad nailer.
You can read all about our DIY kitchen backsplash made with faux brick here.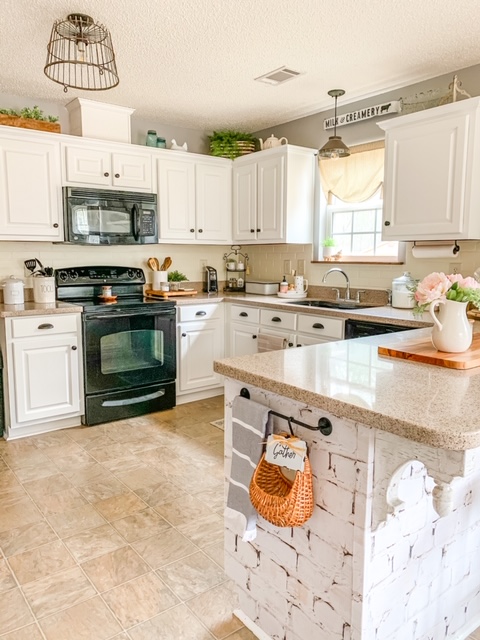 The last part of the project was painting the trim in the kitchen to match the cabinets. I also painted our pantry doors in the same color.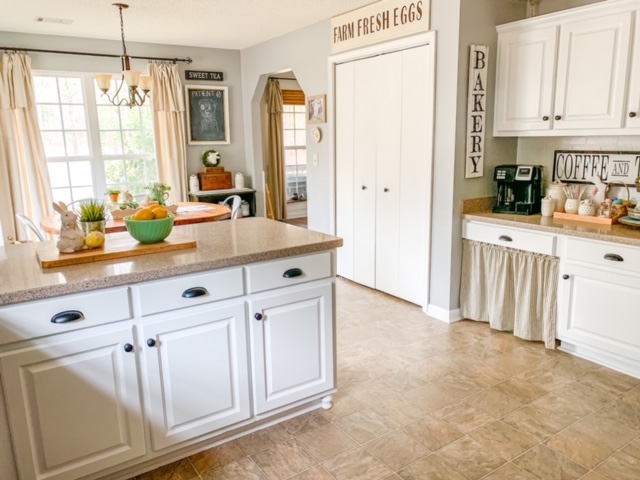 So if you're on the fence about painting your kitchen cabinets because of the amount of work it requires, just go for it! I promise you it's so worth it!
Mine are holding up so well too. Unlike before when they were dark, I can easily spot a spill or stain. And it wipes right off with just a wet rag.
I can now finally say I truly love my kitchen 🙂
Now, please go and visit these lovely ladies. You're going to love what they're sharing!
Welcome Home Sunday