Galentine's Day Gifts: Homemade Sugar Scrub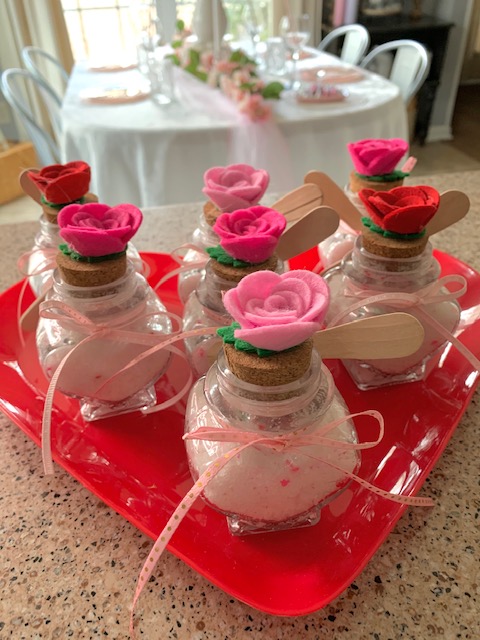 This year, I'm hosting my first ever Galentine's event. I'm hosting a Galentine's Brunch this Saturday with my mom, sisters, and nieces.
I'll be sure to share more of the decorating ideas in another post, but I wanted to show you this adorable gift idea…a homemade sugar scrub.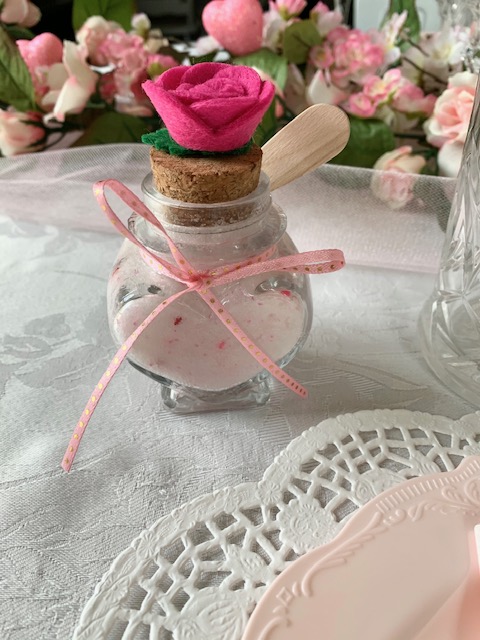 Here's what you need to make this Galentine's Day Homemade Sugar Scrub:
1 cup granulated sugar
1/4 cup coconut oil (liquid form)
1/2 teaspoon pink sugar sprinkles
1 1/2 teaspoon heart sprinkles
6 drops of your favorite essential oil (I used Rose/Grapefruit).
Directions:
Combine the coconut oil and essential oil and stir.
In a separate bowl, combine white sugar and pink sugar sprinkles. Then add the oil mixture until well combined.
Mix in the heart sprinkles and then transfer to a 8 oz. jar. Since this was a gift for nine people, I tripled the recipe and had just enough for nine 3.3 oz. Heart Glass Jars.
To decorate the jars, I used pink ribbon to tie a wooden bowtie to the jar. The bowtie will be used to get the sugar scrub out of the jar when using it. The wooden bowties also came from Hobby Lobby. You could also use wood craft sticks. On the top of each jar, I put a felt rose sticker that I purchased at my local Dollar General.
The table's all set and the only thing left to do is prepare the food and drinks. Come back soon and see the fun mocktails I'm making using cotton candy.
Happy Galentine's Day!
XOXO