Summer is the perfect time to enjoy some down town with family and friends. And that calls for lots of food and drinks. Here are four of my favorites for July 4th to get my summer off to a great start!
Four Favorites for July 4th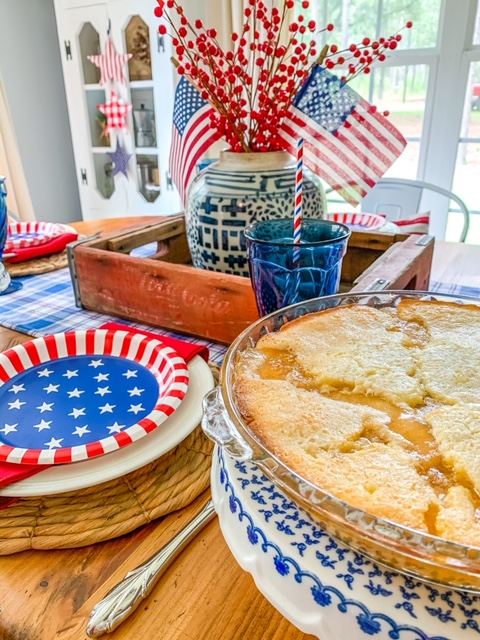 Memama's Homemade Berry Cobbler
I can't think of a better way to start off the summer than with a homemade berry cobbler. I use my Memama's recipe every year and it never disappoints. My favorite way to make it is with fresh blackberries or strawberries! But you can also use canned fruit filling like apples, peaches, and cherries. You can get that recipe here.
Patriotic Party Mix
Another fun treat to celebrate summer, and the July 4th holiday in particular, is this Patriotic Party Mix. I've seen different variations of this treat on Pinterest over the years, but here's how I made it:
Patriotic Party Mix Ingredients:
4 cups Chex Cereal – I chose peanut butter flavor
3 cups Cheerios
2 cups Mini Pretzels
1 1/2 cups Salted, dry roasted peanuts
Vanilla Candy coating (16 oz package)
1 cup Peanut Butter M&Ms
1 cup Mini Plain M&Ms
Red, white, and blue sprinkles to your liking
Directions:
Combine cereals, pretzels, and peanuts in a large bowl
Melt vanilla candy coating in microwave safe bowl for about 3 minutes, stirring every 30 seconds until completely melted and smooth
Pour melted mixture over the dry ingredients and toss to coat completely
Spread mixture onto a tray lined with parchment paper. Top with M&Ms and sprinkles and allow to cool completely. Break apart to serve and store in airtight container.
Watermelon Lemonade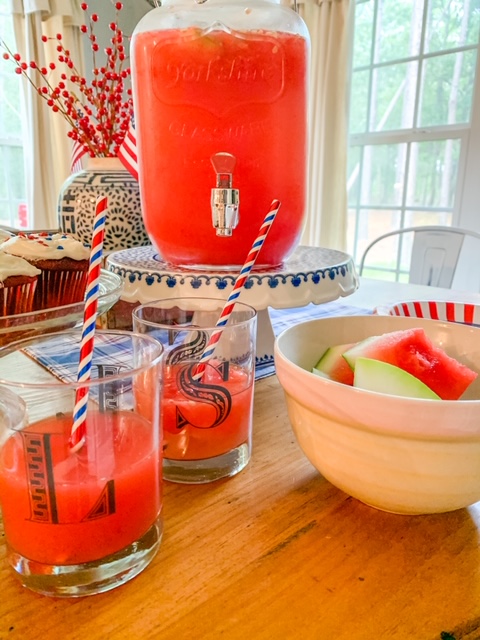 My absolute favorite thing about summer is watermelons, and we grow them the best down here in the south! I can eat half of a watermelon in one sitting all by myself, no joke 🙂 I love to find different ways to use watermelon when it's in season. But one thing I've never tried was Watermelon Lemonade. With the July 4th holiday coming up this weekend, I thought it was the perfect time to try this easy recipe.
Ingredients/Directions for Watermelon Lemonade:
You can make your own homemade lemonade for this refreshing drink, but I chose to use Country Time Lemonade.
Following directions on the can, I made a pitcher of lemonade (about 12 cups). In a blender, I blended chunks of watermelon until I had 4 cups of liquid.
I combined the two in a pitcher, put in a few slices of watermelon rind, and chilled for a couple of hours. Stir before serving.
Red Velvet Cupcakes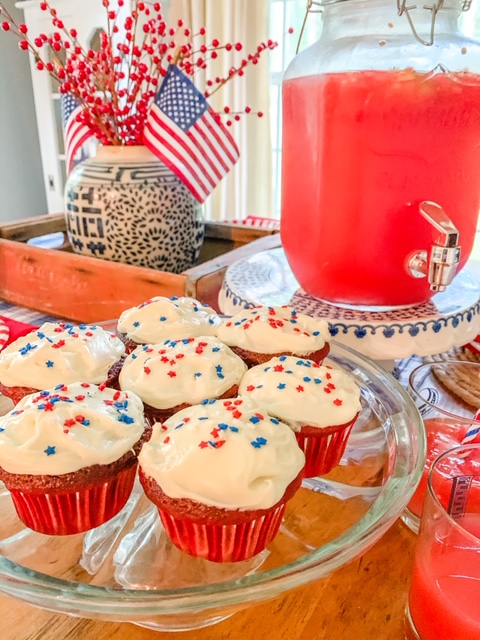 Cupcakes are ALWAYS a good idea! They are the perfect dessert for any occasion and are so easy to decorate for any theme. For patriotic holidays, I like to use alot of red, white, and blue, so a red velvet cake mix was perfect for these cupcakes.
Just follow the directions on the cake mix of your choosing. When cooled, top with white icing and patriotic colored sprinkles. And there you have it! a super easy and festive dessert 🙂
I hope you enjoyed these four favorites for July 4th. Let me know if you try any of them and how you like them.
XOXO