Puppy's First Easter Basket Ideas
This will be our sweet Ellie's first Easter, y'all! In case you don't know, we became the proud parents of a sweet little Shorkie fur baby last summer 🙂
I'm sure you're thinking, "That's one spoiled dog!" and you're exactly right….lol! But she's our little girl to spoil and I really enjoy celebrating any and all occasions any way I can. So…..I made her her very own Easter basket!
You can use your imagination and creativity to make an Easter basket for your fur babies as well.
Here's how!
Choose a basket to hold the items. You can use one you already have on hand. It just so happened that I needed a new one to hold her toys. So I opted for one that was safe for her if she were to chew on it. It also is a fun spring color, so there's that lol!
For a basket filler, I chose a fun new blanket for her bed. She loves her blankies! You could also use traditional Easter grass, just make sure you don't let your pup eat it.
Does your fur baby like to wear clothes? Maybe just a shirt or a fun bandana? Choose one or two new clothing items or accessories to add to the basket.
What dog doesn't enjoy new toys?! Pick out a couple of new toys for your pup that you think they will enjoy. There are lots of seasonal toys in the stores right now that are perfect for spring and Easter. When choosing toys, also keep in mind what type of chewer your pup is. Be sure to get toys that will last a while if possible.
Last, but not least, add some fun treats to the basket. It's never a bad idea to stock up on their favorite food or treats anyway. This way, you'll have extra items on hand when needed.
I've linked a few items below for you HERE. There's so many cute ideas in the stores!
This post contains affiliate links. If you click on these links and buy something, I make a commission at no cost to you.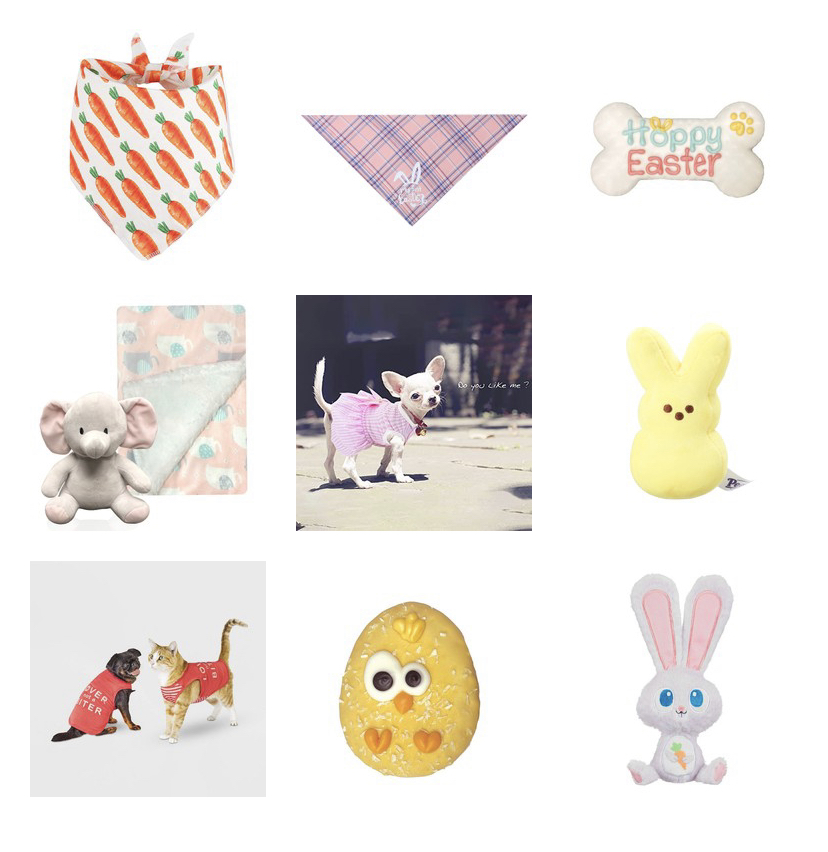 I also saw these adorable bandanas at The Boxed Bowtique.
And Target has this adorable Tulip Rope Dog Toy!
I know I've focused on "girl" dogs, but look at this cute bowtie for a male 🙂
I'm so excited for Easter and look forward to giving our sweet Ellie her first Easter basket! She's already spied it and knows it's for her 🙂
Have fun with this y'all, and let me know if you make any Easter baskets for your pups as well 🙂
Pin it now! Save for later!