Creating an Easter Dessert Tray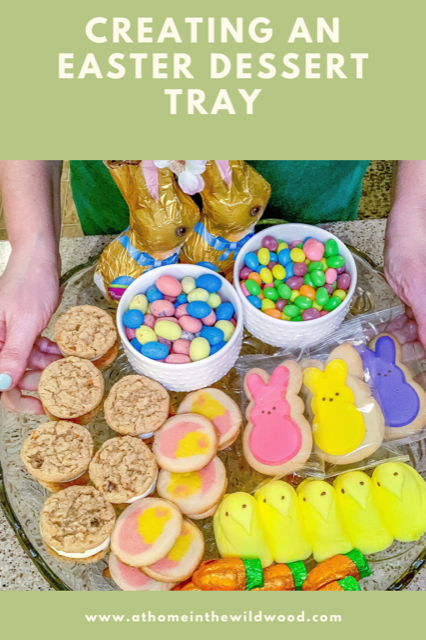 Why just have one or two desserts for Easter when you can have a sampling of many? I decided to create a fun Easter Dessert Tray to enjoy some of my favorites this holiday season.
If you're like me, when you think of Easter candy, you always think of chocolate Easter bunnies and those cute little marshmallow peeps. And jelly beans! We can't forget about jelly beans!
I went to my local Walmart and purchased all my favorites, along with a few other candy options to put together this fun little Easter Dessert Tray. Charcuterie boards are all the rage now. People make them for all the holidays. This tray is basically the same thing. I just opted for a round glass tray instead of one of my cutting boards.
In addition to the hollow chocolate bunnies (which I made into chocolate drinks), the jelly beans, and peeps, I purchased Peep sugar cookies, Pillsbury Easter cookies, carrot cake sandwich cookies, malted mini Robin eggs, and chocolate candy carrots.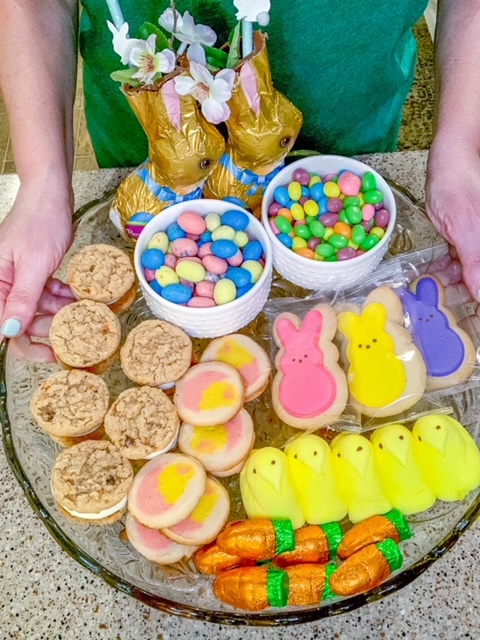 I played around with the design until I liked it. I think it turned out super cute and I can't wait to create more dessert trays/dessert boards in the future. It's easy to do. Just choose a theme and pick out foods that remind you of that particular holiday. You could even create one with healthy food options.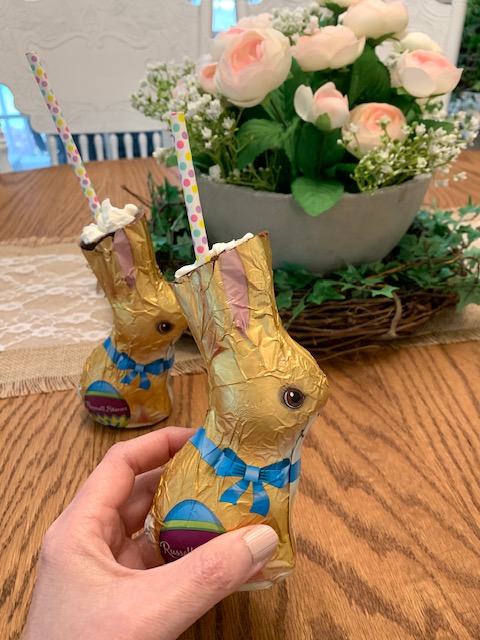 If you thought the cute bunnies on the tray were just chocolate Easter bunnies, you are partially correct 🙂 They're actually filled with chocolate milk and topped with whipped cream.
Here's how I made them:
To make Chocolate Easter Bunny drinks, purchase hollow chocolate bunnies. I would get a medium or large size to make sure you have some big enough to hold enough liquid. Otherwise, what's the point, right?
With a good serrated knife, gently slice off the top part of the bunny ears. You can leave the foil on or take it off. They're cute with the pretty colorful foil on them or just as chocolate bunnies. After that, use a small funnel to pour your liquid into the bunny. I chose premade chocolate milk for convenience. * Only use cold liquids for this as something hot will melt the chocolate, of course. After you've poured the liquid in, top with whipped cream and a cute straw and enjoy! These would be adorable for Easter brunch or even a kids party and egg hunt.
Don't forget to pin this idea for later!