It's Good to be Home: My Fall Home Tour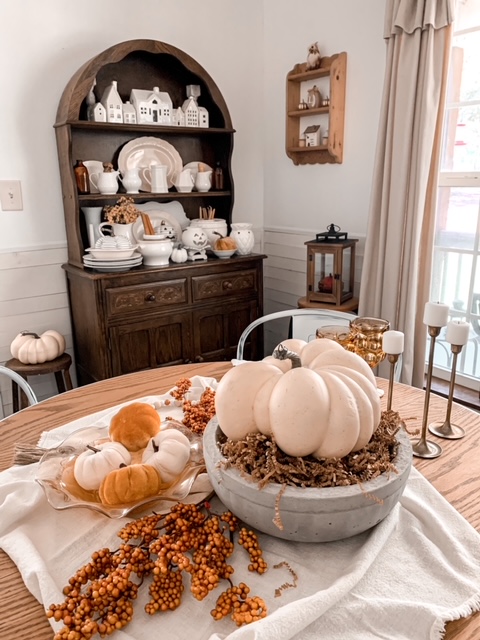 Fall is here, my friends! Not just on the calendar, but it really feels like fall here in south Georgia!
Fall truly is my favorite season, and I love to celebrate the fall season with budget friendly seasonal decor all around my home.
Why don't you come inside and let me show you around 🙂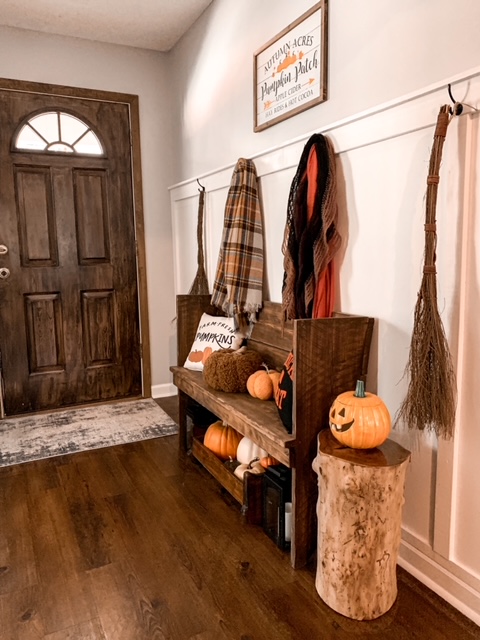 I believe that first impressions are so important, even in our homes. My goal is to make our front entrance welcoming and inviting no matter what season we are in.
After doing our DIY Board and Batten project in the foyer last year, I've enjoyed styling this space even more than usual. The iron hooks on the feature wall are perfect for hanging seasonal items.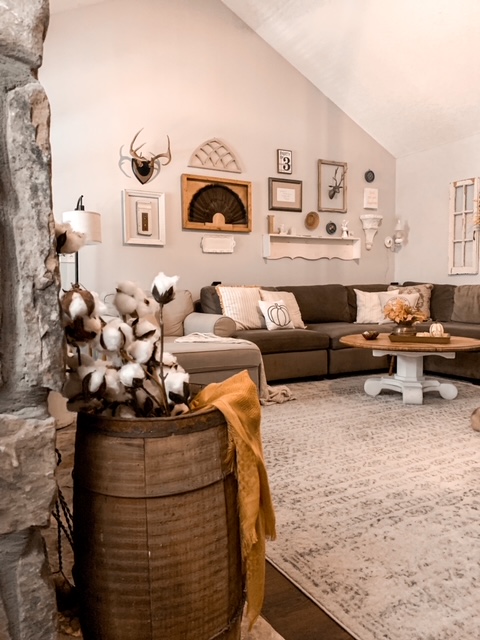 I believe the living room should be an especially cozy space for family to gather each day.
I love to add extra throws and pillows in seasonal colors. A large area rug also makes it the perfect space to play a game of fetch with Ellie or just pile up some pillows for movie watching.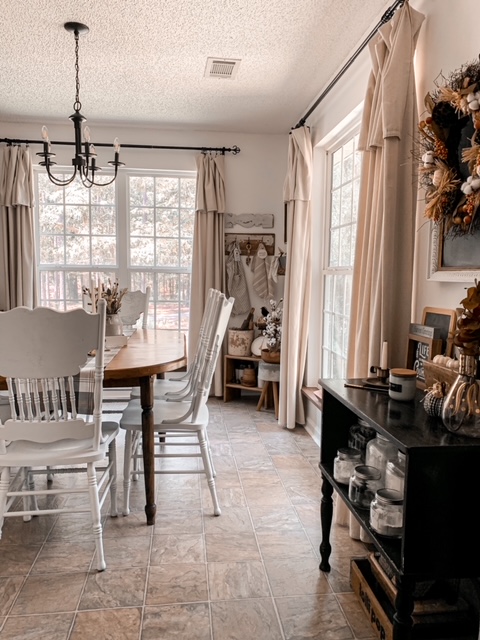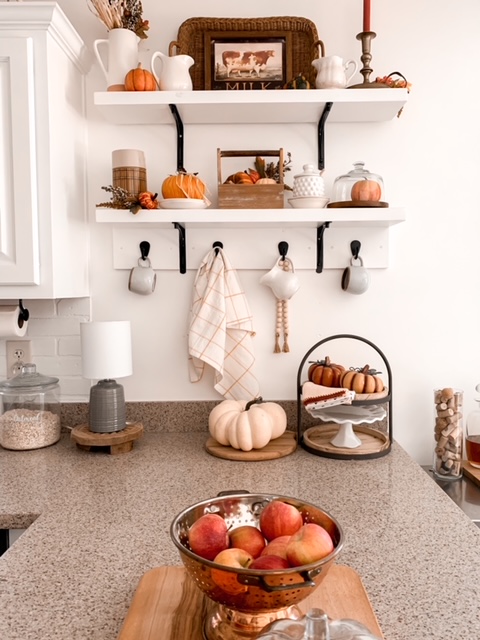 I'm enjoying my kitchen open shelving even more nowadays. I used to have three shelves in this space, but recently remove one shelf and added this hook rack. It's given me more options for styling this space and I'm having so much fun with it!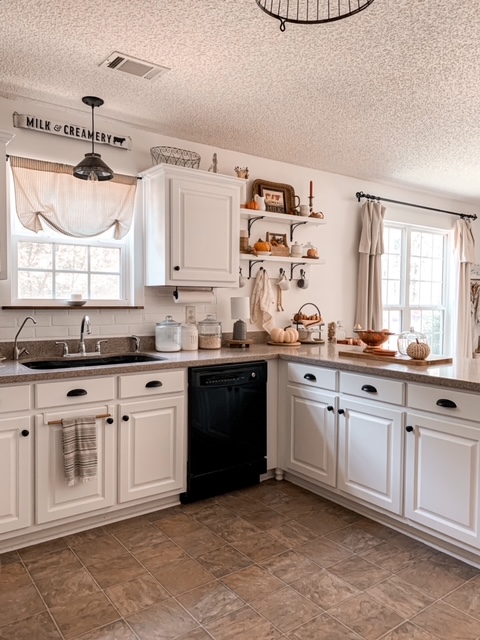 It took me YEARS to decide if I really wanted to paint my kitchen cabinets white, but once I did, I've never looked back! It was the best decision ever and I love how the all white backdrop of this space really makes my seasonal decor stand out.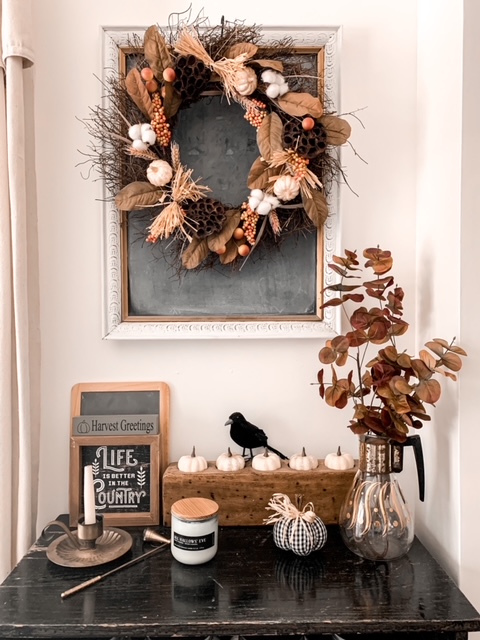 This little area is what I refer to as my baking station. This painted vintage table actually holds lots of my staple baking supplies inside. It's a fun place to switch out my seasonal vignettes. And speaking of baking, it's time to restock this space for all the holiday baking I will be doing.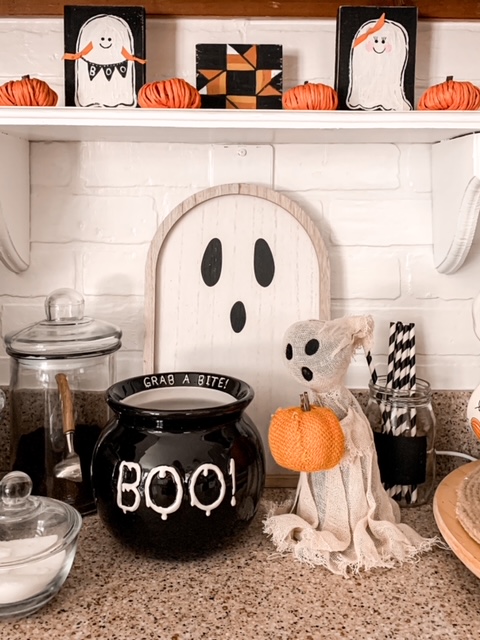 My coffee bar is also a fun space to style for the holidays and different seasons. I went with a spooky cute ghost theme for the month of October. After Halloween, I'll change it up a bit before Christmas.
I get alot of questions about the "brick" on my bar. It's actually a peel and stick wallpaper from Milton & King that we installed years ago before I painted my cabinets. I love the textured look that it gives this space.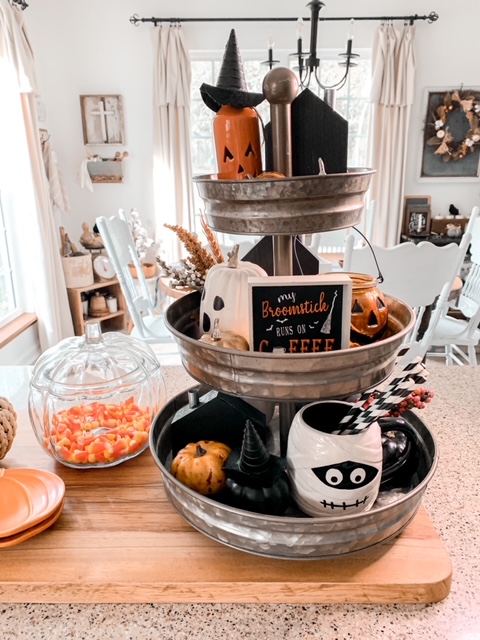 If you've never decorated a tiered tray, you don't know what you're missing! I styled this galvanized metal tiered tray from Hobby Lobby with some Halloween decor I had on hand.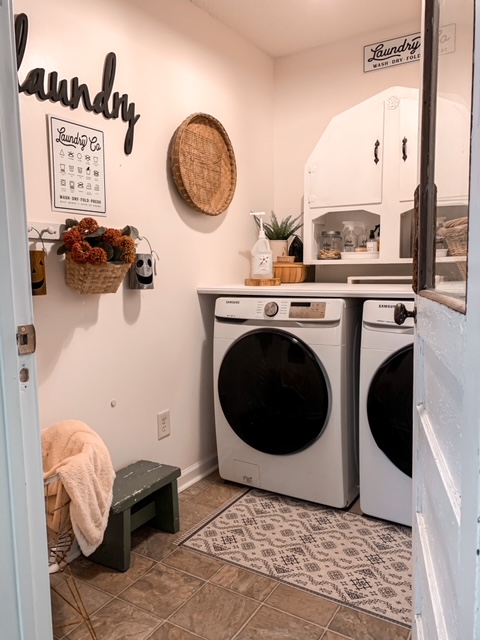 If I have to do laundry, I might as well enjoy this space, right? I added a few fall touches to the laundry room as well. A vintage peg rack is the perfect spot to add a couple of lanterns and fall florals.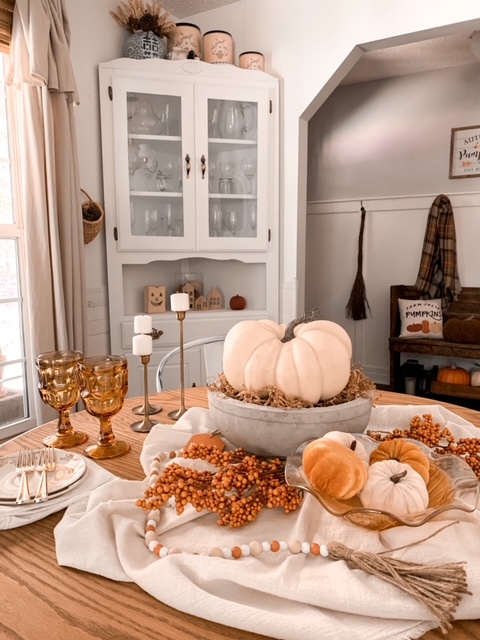 Open concept spaces may be all the rage, but I love having a separate dining room. It's right off the breakfast room, so it really feels like everyone is still in the same space. My dining room is always a favorite room to decorate for the holidays. I don't have the leaf in the table right now, so it's set with a simple neutral colored fall centerpiece.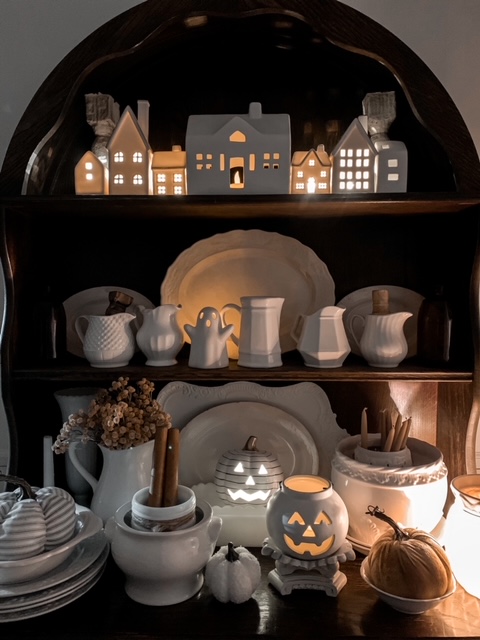 I've been collecting ironstone for several years now. I love to style this vintage hutch for the holidays as well. The white ironstone makes a perfect backdrop for seasonal decor, day or night.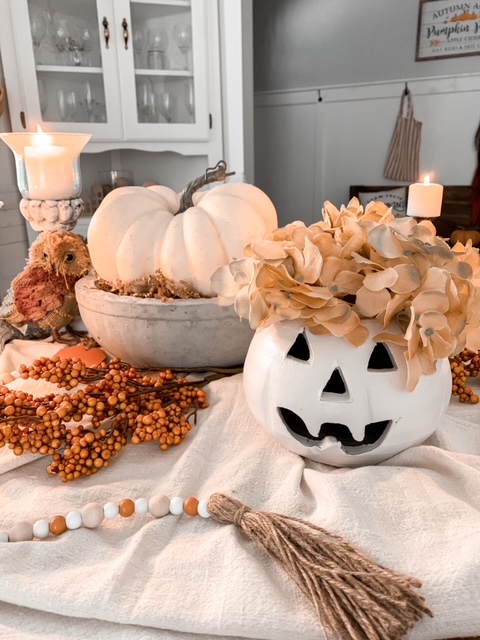 Thanks so much for stopping by to see my little cottage in the wildwood all styled for the fall season.
My sweet friends from It's Good to be Home blog hop are sharing today as well. I hope you'll go and visit each of their blogs to see all the fun they're sharing today! Our guest blogger today is Alieta from Alieta Treasure Hunting. I know you'll love her as much as we do, so go over and say "hello" 🙂