Word of the Year 2021: Transform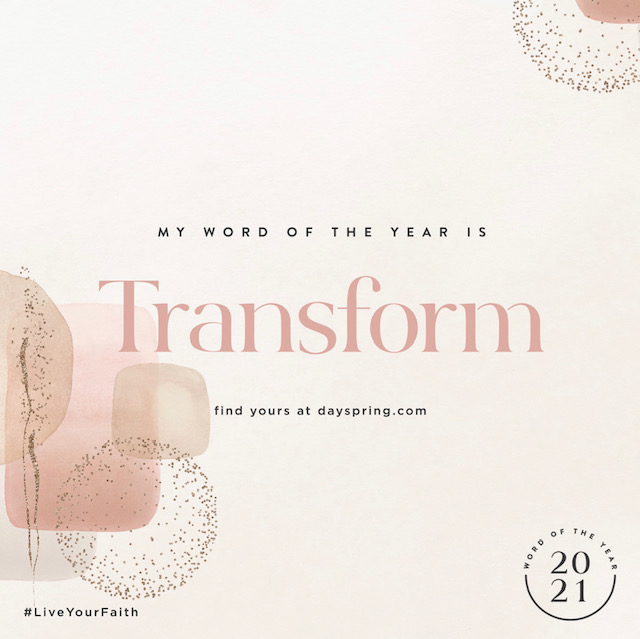 Have you jumped on the bandwagon and started choosing a new word to focus on each new year? I don't always take the time to do it, but I love the concept. And after the year that 2020 was for most of us, I felt like I needed to have something to help me focus in on what I learned in a year of so much heartache and fear and how to apply it going forward.
Lucky for me, I ran across a Dayspring quiz on Facebook that provided help to choose my new word for 2021. After answering a few questions, the quiz actually chooses your word based on your answers. And I have to say, my word of the year is spot on! TRANSFORM
The definition of (trans.form):
/tran(t)sˈfôrm/ – make a thorough or dramatic change in the form, appearance, or character of.
When the word "transform" was chosen for me, my first thought was that it seemed a little drastic. Like, I needed a complete change, to take on another whole form. I put the thought to the side and went on about my business, even forgetting about the whole process of choosing a new word for the year. But when I opened up my Jesus Calling devotion for January 1, 2021, I was reminded of my word of the year.
It spoke of having a teachable spirit, eager to be changed. And then I was reminded of how walking with Christ and seeking His face daily means receiving grace that is sufficient for that day alone.
"Therefore do not worry about tomorrow, for tomorrow will worry about itself" – Matthew 6:34
In this new year, Christ wants me to see His face daily with an open mind, knowing that my journey with Him is transforming me by the renewing of my mind.
After dealing with the stress, fear, and anxiety that the year 2020 brought on, I am reminded of the importance of not allowing my circumstances to dictate how I live my life. I want to spend more time each day sitting at the feet of Jesus and allow Him to transform my mind and make me more like Him in the process. No matter what life throws my way, I can trust that God is still on the throne and nothing takes him by surprise. Not a pandemic. Not corruption in government. Not illness or death. NOTHING.
"For I know the plans I have for you," declares the LORD, "plans to prosper you and not to harm you, plans to give you hope and a future" – Jeremiah 29:11