How to Create a Fairy Garden
Whether you believe in fairies or not, fairy gardens are a fun, creative way to add charm and character to your yard and garden areas. Let me show you how I created two of mine.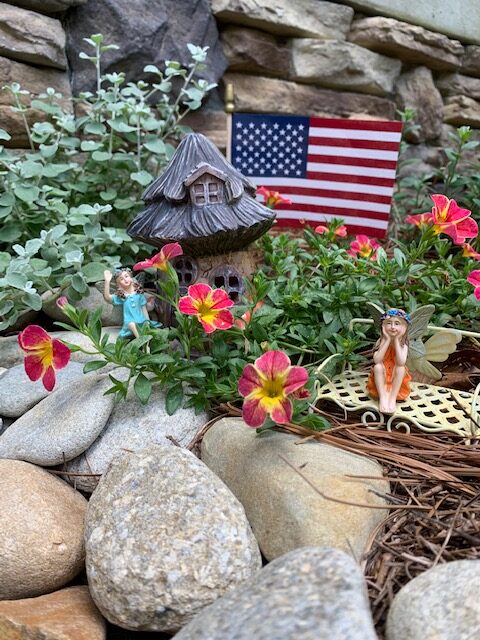 Fairy gardens can be created for inside or outside of your home. Depending on where the fairy garden will be, the first thing you will do is select a structure to hold the fairy garden.
For fairy gardens that will be indoors, you could choose structures like terra cotta pots/planters, bird cages, and baskets.
For outdoor gardens, bird baths, dry creek beds, and ground space near a tree are perfect options.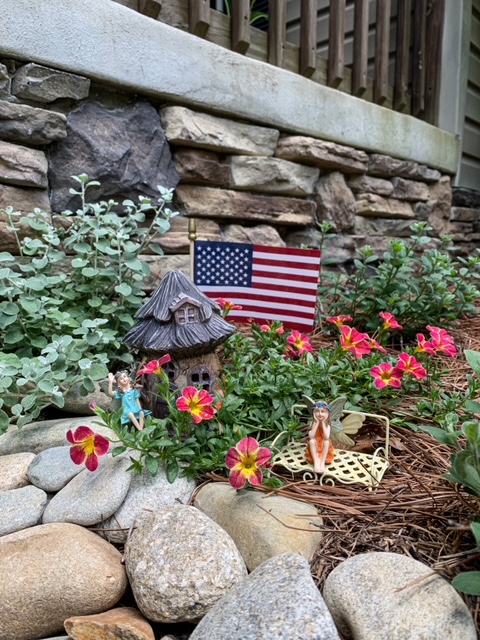 I created this particular fairy garden next to a dry creek bed I made by a gutter coming off the front of our house into a flower bed.
I hate the look of gutters, but we needed this one for water run-off. So I decided why not make the space look like a real creek with miniature plants and fairy garden elements? I added a couple of fairies, a miniature bench, and fairy house and I loved how it turned out 🙂
The dry creek bed and backdrop of stone on our porch's foundation are a perfect background for an outdoor fairy garden.
At a yard sale this spring, I found this adorable old terra cotta planter. When I saw it, I knew it would be perfect for an indoor fairy garden.
Indoor fairy gardens are much easier to create (in my opinion) because you don't have to worry about the wear and tear of the outdoor elements on your garden.
Indoor gardens are a perfect spot to add faux miniature plants and moss for a ground covering. They're also great for adding more miniature sized elements like swings, stones paths bridges, faux mushrooms and so much more!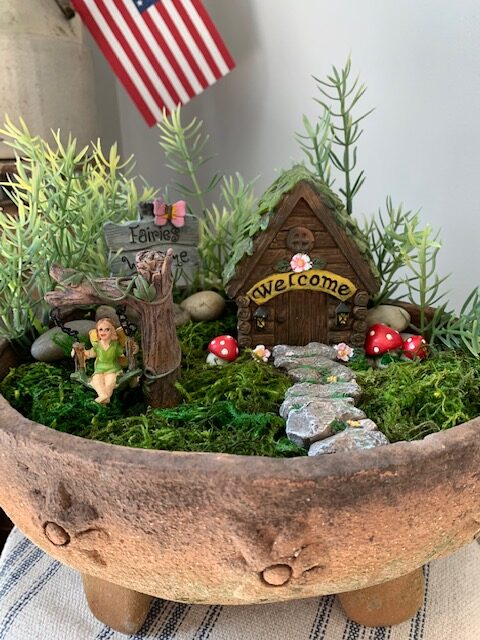 I'm told that fairies also like shiny objects, so shiny stones, mirrors, and water features for them to see their reflection are also fun ideas.
I hope I've inspired you to created a fairy garden of your own. I've got a few more ideas of some that I want to work on around here too!
So let's recap how to make a fairy garden:
Decide if the garden will be inside or outside
Choose a structure or an area to hold your fairy garden
Select miniature plants, faux or real to add a natural element. Water features are also great!
Layer the garden with items like pebbles, shiny stones, moss, miniature items such as fairy houses, birds, bridges, swings, and bridges.
There are so many creative options for creating unique, one of a kind fairy gardens.
Just have fun with it and I'm sure the fairies will come 😉
Pine Now! Save for later!