Organizing a Closet on a Budget
Our master closet is not a large space at all. If you combine that with not having a working system in place to really keep things organized, you will have yourself a big mess! Just like me!
But I got busy a few weeks ago, and came up with 5 budget friendly ways to update our closet and make it more functional for us.
Wire shelving is functional and affordable
When my husband and I built our home, we saved money by choosing the plastic coated wire shelving found at various stores. When we found ourselves needing a way to keep shoes up off the floor, I decided that this was the perfect option along the bottom of one of the walls.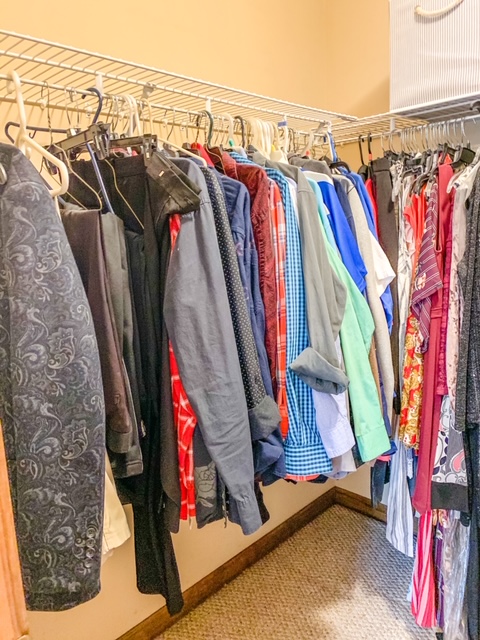 You can find similar wire shelving at places like Home Depot.
Fabric Covered Bins
While we do have a few Rubbermaid bins along the back wall for out-of-season clothing, we no longer have to use them to store items on the top shelf. There are so many beautiful fabric options available in stores now! I chose a cute gray/white striped pattern from the Better Homes and Gardens line at Walmart. It's really big and has a cute rope handle on the side to pull the bins down from the closet. I also bought labels to remind us of the contents in each bin. Now we have a system to store items out of the way that are not needed on a daily basis.
Wire shelf dividers
This was the perfect option to hold my husband's work clothes on the top shelf of his side of the closet. He likes to keep work clothes separate from his other clothes in the dresser, but I needed a way to keep things stacked and organized. So far, this seems to be working out well. I found these dividers for a great price on Amazon.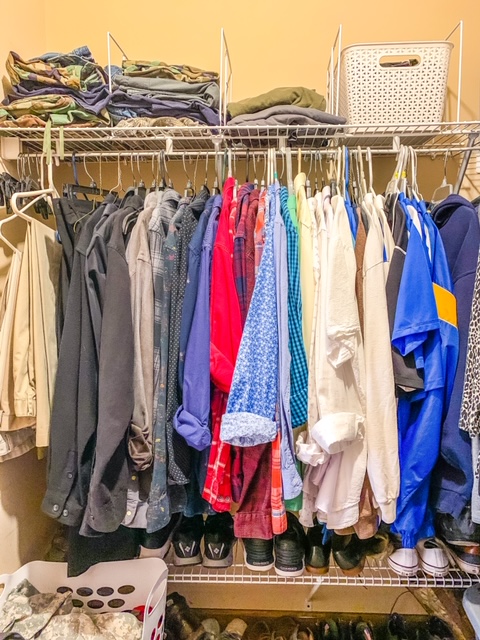 Rolling storage bins
Rolling and stackable storage bins are available at many stores today. I collected a few from around the house to organize my shoes. You can find them at stores like Walmart, Home Depot, and even dollar stores.
Shelf Unit
There are tons of wire shelving combinations to get any configuration you want for your closet. Home Depot has similar ones to mine. If I need extra storage in the future, I can add on to this unit easily.
So as you can see, it doesn't take hundreds of dollars to make your closet a more organized and functional space for you and your family. But before you get started, the first thing you need to do is empty your closet. Get rid of items you no longer need, have outgrown, or that should really be stored in a different location of your home. Then you will know exactly how much storage you need to help you determine what works best for your needs.
Happy organizing!