For just a few dollars, you can make this easy pallet project with turpentine boxes for a wall in your home or for an outdoor living space. My husband and I did this project in just a matter of minutes. It's super easy and makes a big impact on any wall space.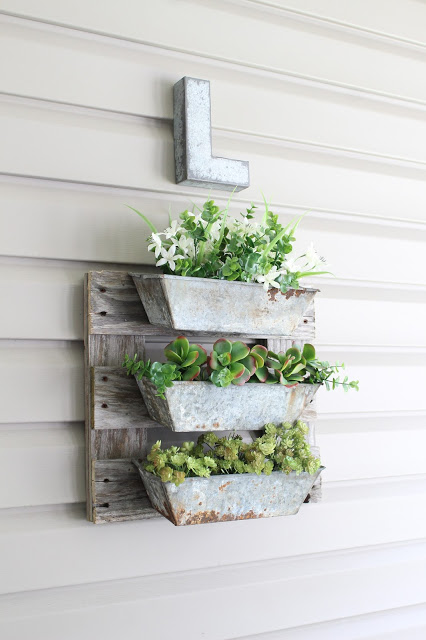 Now, I'll admit that my Mister does most, well, all of our DIY projects that involve power tools. But I am thinking about getting a few tools of my own and becoming a little more hands-on. But I certainly enjoy doing these projects with him, and I'm so thankful he likes to help.
As you can see here, he uses Ryobi cordless tools.
The first thing you need to do, of course, is decide how big you want it to be.
Then you cut your boards at the desired length. For our project, we needed seven boards, all the exact length.
You can see from the picture below that we doubled the end pieces to make it sturdier, but that's entirely up to you. Then we spaced out the three boards evenly down the front to hang the turpentine boxes from.
You could actually use a pallet as-is, but we didn't want ours to be very heavy since we were hanging it on the wall.
He placed a wire hanger with screw eyelets on the back to make hanging easier.
I found the turpentine boxes at one of our Peaches to the Beaches thrifting adventures. Scott used screws to secure them to each piece of board.
And that's all there is to it!
Now, y'all don't be jealous, but he even helps me hang things wherever I need them 🙂
Spring is a perfect time to spruce up your outdoor spaces. I hope you'll make time to try this super easy DIY project that can easily be done in an hour.
If you're interested in seeing more projects and decorating ideas for your summer outdoor spaces, head on over to our Summer Styling Series Pinterest board hosted by Kate Keesee (Instagram @salvagedior).
Also, head on over to HOMESTHETICS.NET to see not only this project, but 111 of the World's Most Loved DIY Projects. So much inspiration for your summer projects!