Hey there, sweet friends! If you're popping over from Charity's beautiful home at Mornings on Macedonia, welcome! Wasn't her spring coffee bar just adorable?!  I'm so happy to have you stop by my little cottage now to see how I have it styled for the season. This post is actually part of a blog hop with 5 other bloggers who are sharing their tours as well. At the end of this post, I'll be directing you to the next stop, so be sure to stay around for the entire tour. 
When I think of spring, I think of flowers and greenery. So I always start my decorating with some pretty seasonal blooms and plants. No worries if you don't have a green thumb (I certainly don't). There are tons of places you can find faux flowers and greenery that will fool even the best gardeners.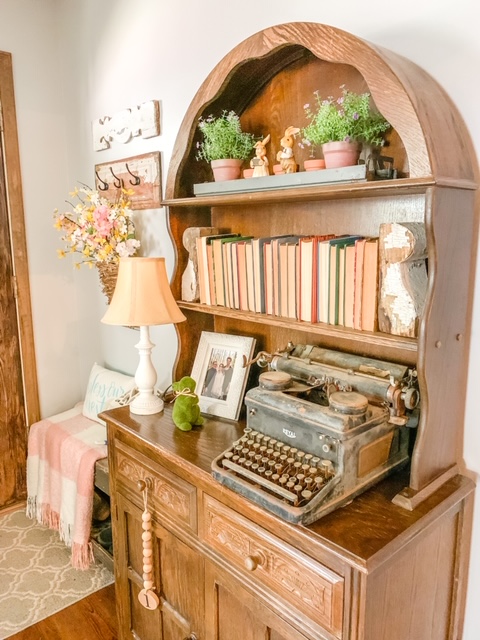 I love to use a mix of new and vintage pieces in my home, and the foyer is no exception. This beautiful vintage hutch was a new purchase when we moved into our home. I loved it's feminine flair and beautiful detail! It's perfect to welcome my guests and give them a glimpse of what to expect in the spaces ahead.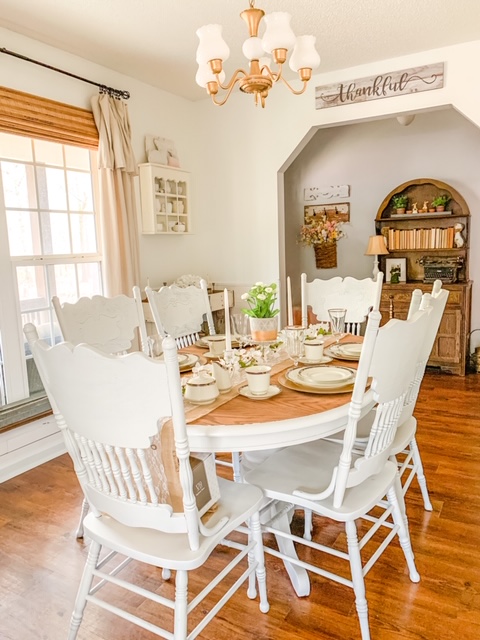 Right off the foyer to the right is my dining room. I love having a separate room to host guests for special occasions. I also enjoy setting a seasonal tablescape to make things extra special.
If you follow me on Instagram, you saw that I finally got around to painting my kitchen cabinets earlier in the year. It was alot of hard work, but boy was it worth it! The white cabinets are the perfect backdrop for any seasonal changes I decide to make with my decor.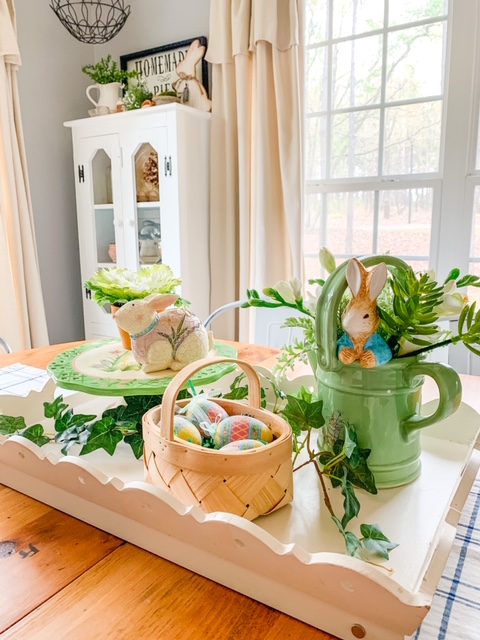 I love to do seasonal vignettes and I had alot of fun creating this one on my breakfast room table.
While I don't think I could do total open shelving in my kitchen, I love having this small area over the bar to style for each season and holiday. When I'm changing things up, this is the first space I tackle.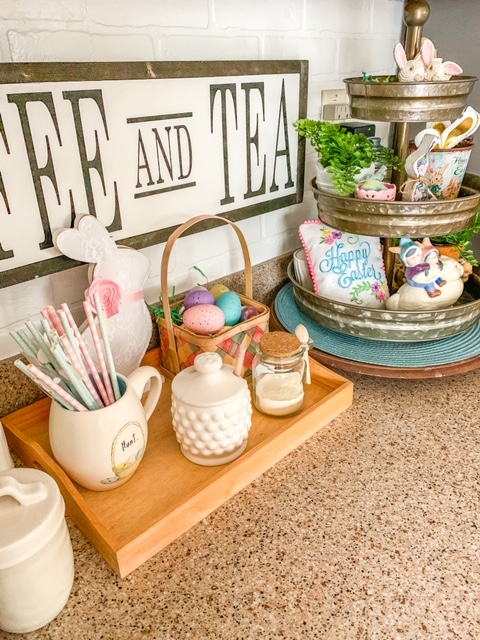 I also love having a coffee bar in my kitchen. A few years ago, I converted an old built-in desk area in the kitchen into a place to house all the coffee, tea, and hot cocoa. Needless to say, it's a popular spot in my home! If you'd like to see how I did it, take a look at the process here.
I kept things a little simpler in the living room. On the coffee table, I added a basket with moss, faux eggs, fabric carrots, and tulips. A pink throw and lots of greenery complete the space.
Well, that concludes the tour of my home for spring, all pretty in pastels. But you're not done yet! The next stop of our spring tour is my friend, Jen's house at An Inspiring Home. Here's a little sneak peek: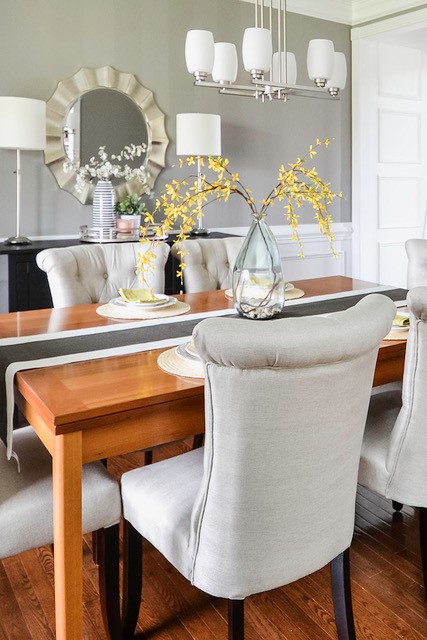 Now hop on over there to say "Hi" to Jen and be sure to visit all the other stops on our tour below.