How to Refresh Your Porch for Summer
Hello and welcome to the Summer Outdoor Spaces Blog Hop hosted by AnnMarie & Anne from Simply2Moms! If you are visiting from The Frugal Homemaker, or if you just happened to stop by, I'm so glad you're here.
They say that "life is better on the porch", and I couldn't agree more. Here in the south, we spend alot of time outside year round. So it's always nice to swap things up a bit and freshen up our outdoor spaces for the different seasons.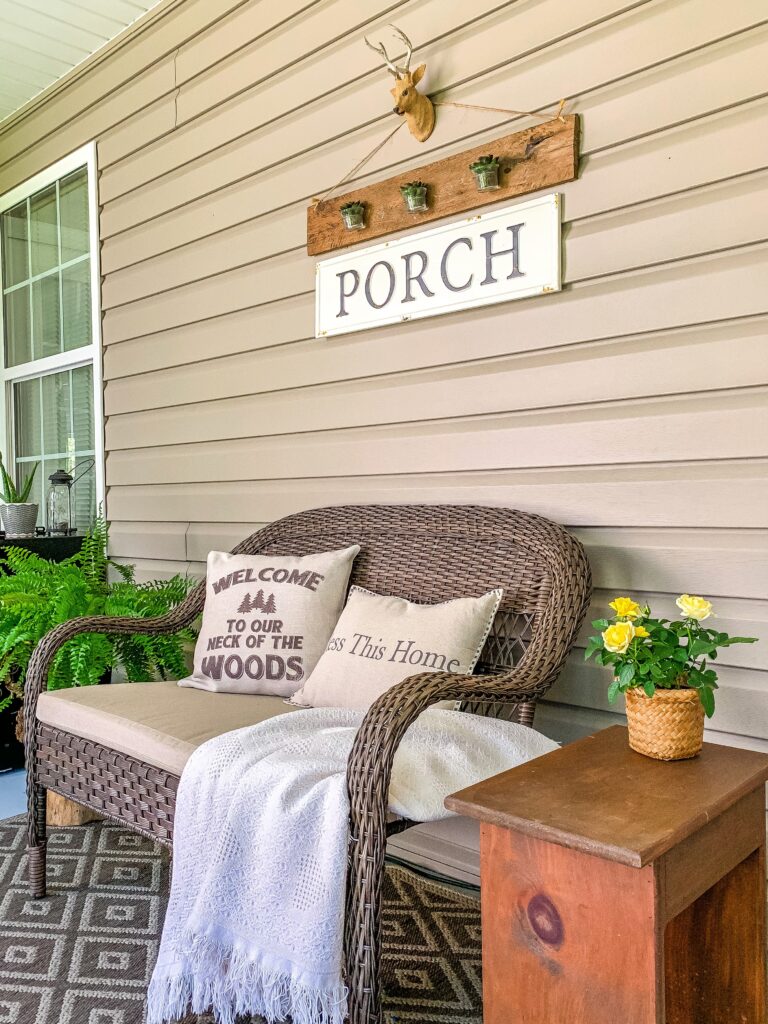 A few years ago, we screened in our back porch space which made it even more usable for the warmer months. Here in the south, mosquitoes and gnats are horrible, so now we can enjoy being outside even more.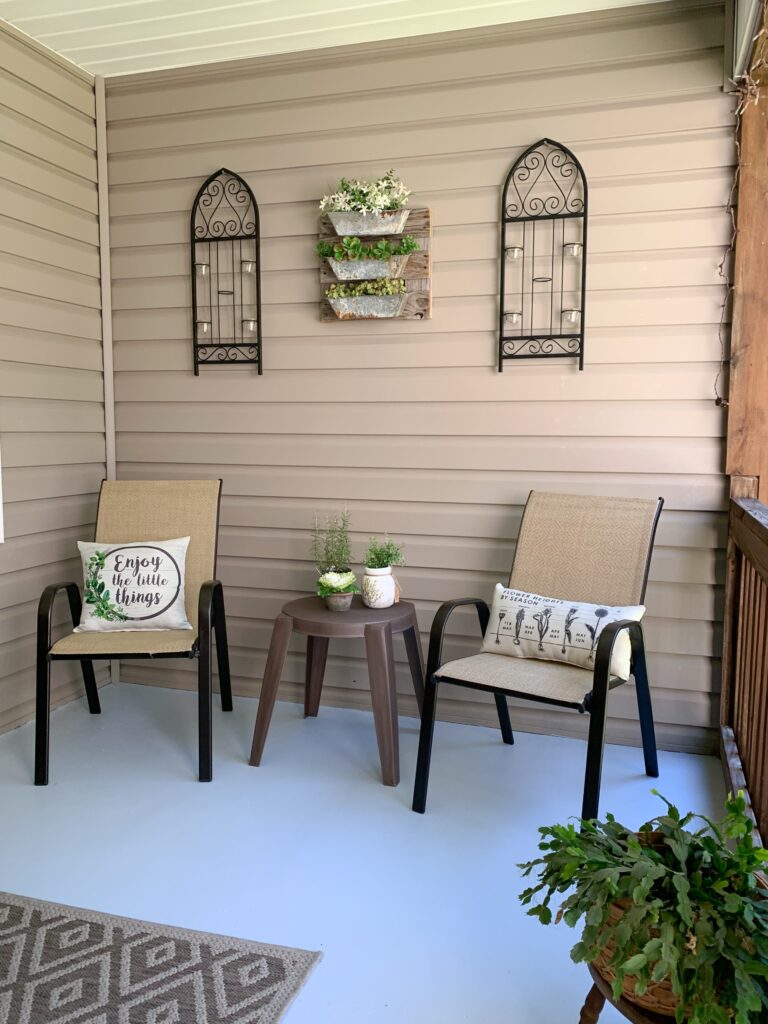 I enjoy having coffee out here in the mornings. It's also a great spot to relax and wind down in the evenings. I even added fairy lights along one side for a soft glow at night.
Several years ago, Mister and I made this DIY Pallet Project. We used salvaged pallet wood and turpentine boxes from a yard sale to create it. I blogged all the details here. I think this piece is the perfect accent on the wall flanked by two thrifted metal screen panels that I hung to hold battery operated candles.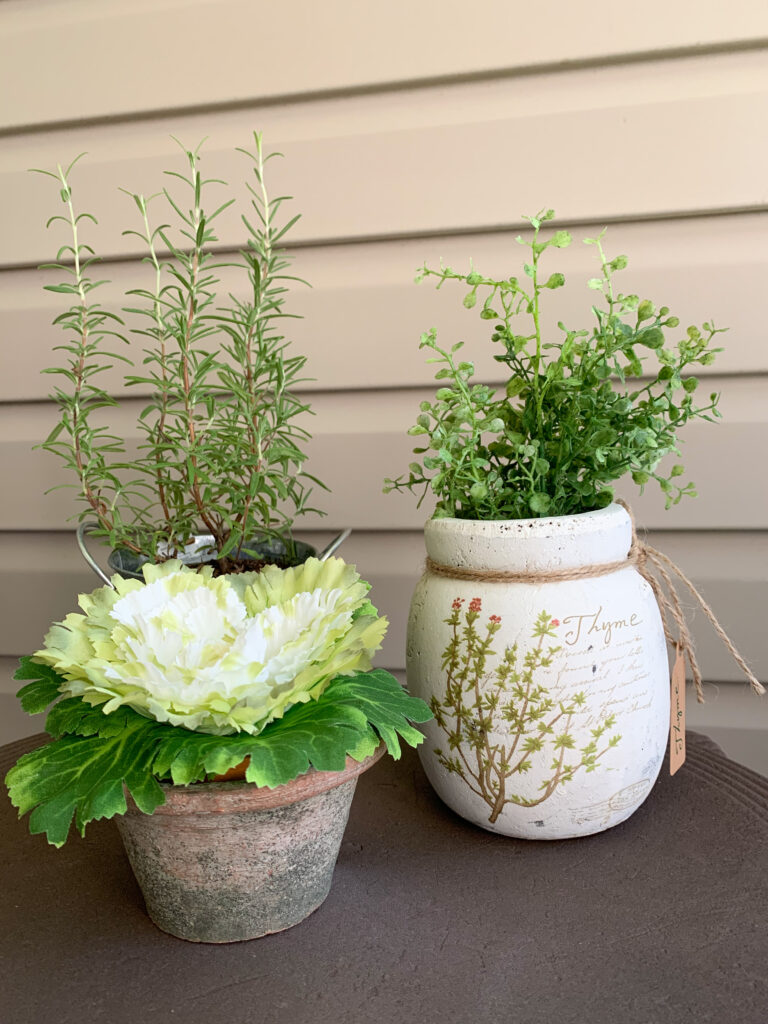 I love to use pops of greenery in all of my decor, inside and outside. I often use a mix of faux and real florals since I'm still working on my green thumb 🙂 I saw this beautiful pottery piece at Home Goods recently, and just had to have it. I think I need to get a real thyme plant for it!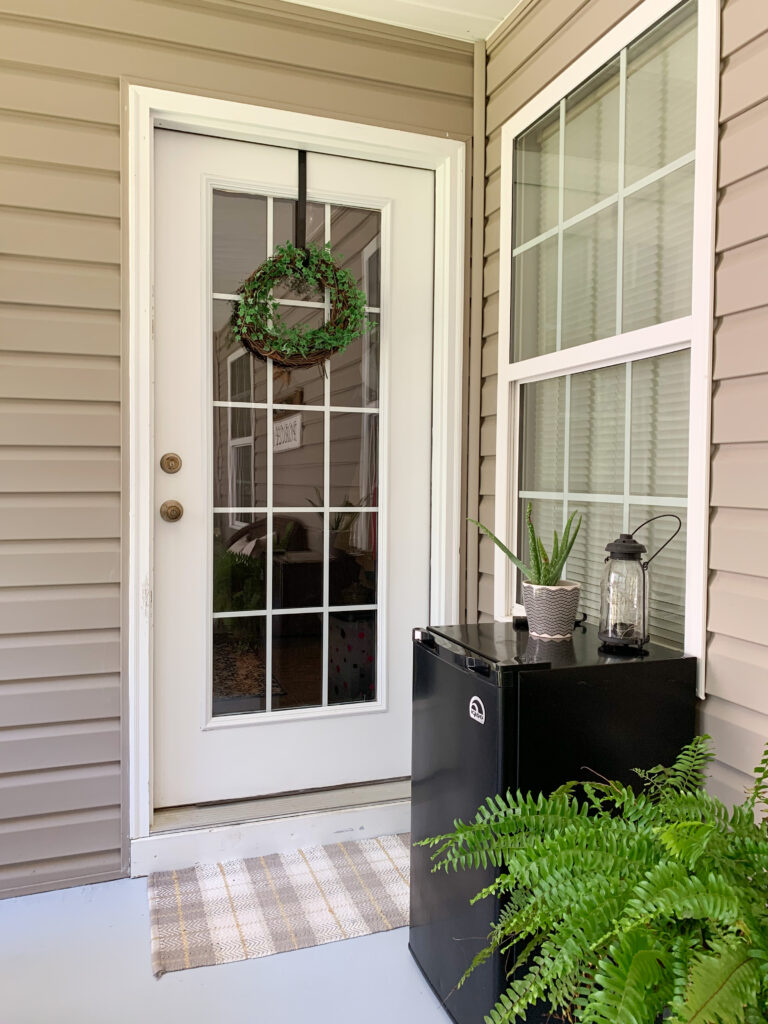 Our back porch is right off of the kitchen, but having a mini fridge outside sure makes grabbing a cool drink convenient. The fridge and grill are located on the end of the porch next to the door for easy access to the kitchen when we are cooking.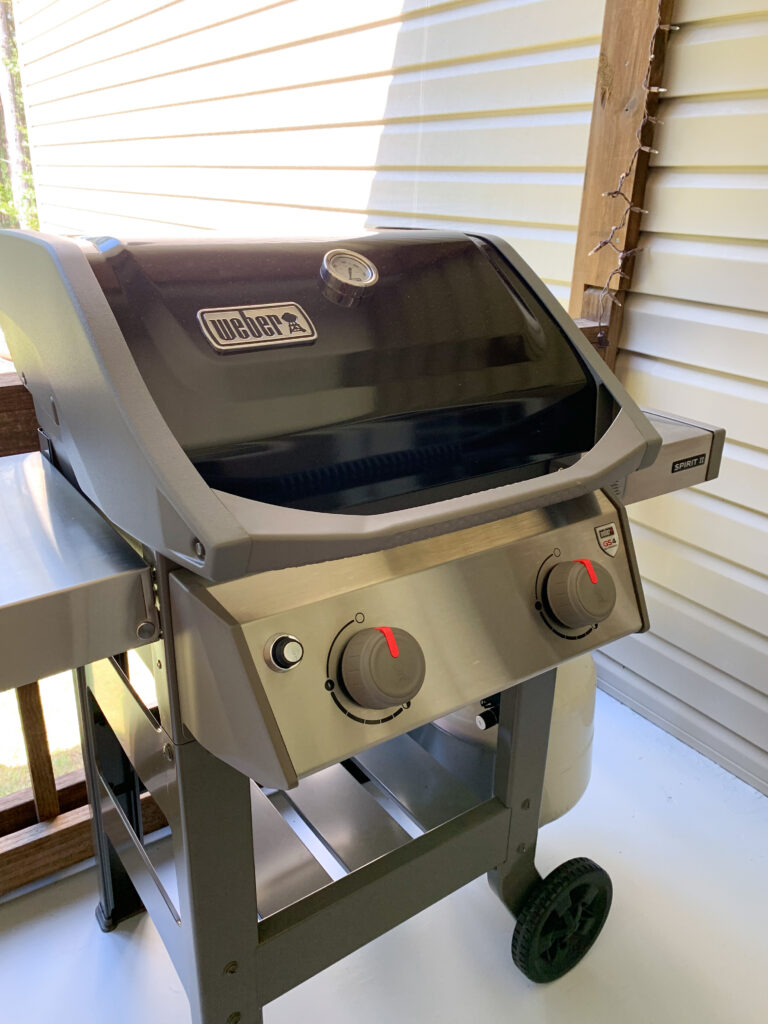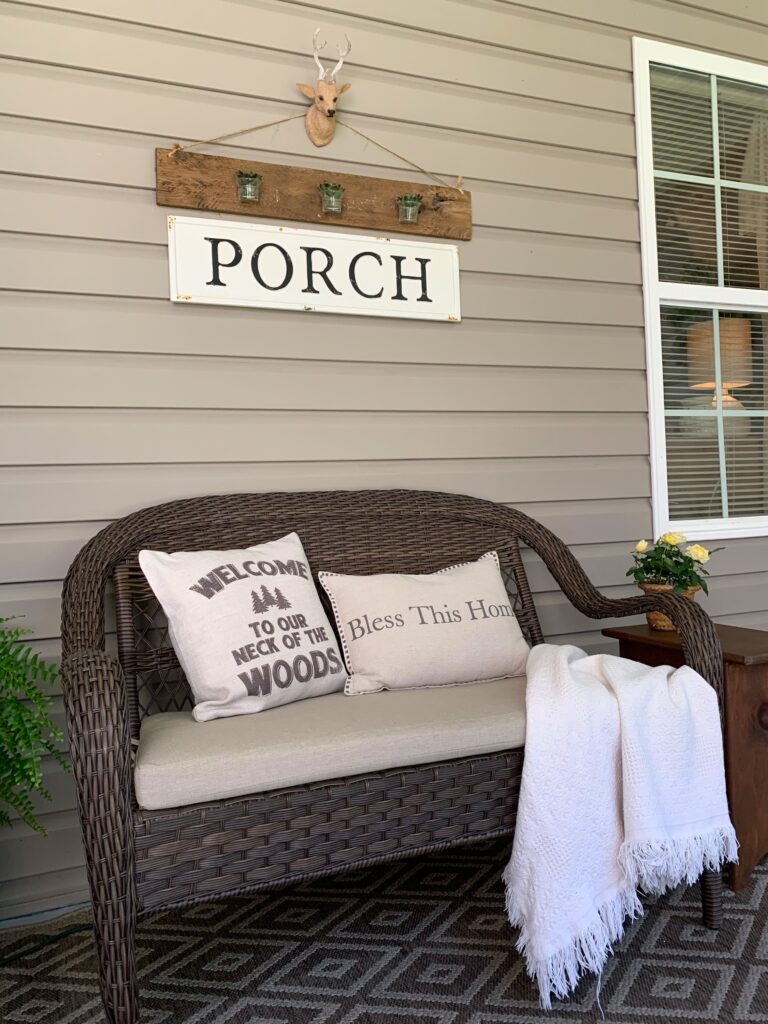 I love having an outdoor rug to anchor the main sitting area. It helps tie everything together and define the cooking space from the seating areas on the porch. This particular rug is from Walmart a couple of years ago. A couple of pillows and a throw make the space extra cozy.
To refresh this space for the summer months, I only had to purchase a few things.
After cleaning the entire porch, I painted the floors with a porch & patio floor paint from Home Depot. I chose the color "Skyline Steel".
Wicker love seat purchased at Home Depot
Two straight chairs came from Ollie's.
Pottery was from Home Goods.
Plants: purchased the aloe plant, miniature rose, and rosemary
I worked with Westinghouse for our new porch ceiling fan. I love the sleek, simple design and think it's perfect for this space.
So what do you think? Do you also enjoy having a space outdoors to relax or entertain? Whether it's an enclosed porch, patio, open porch, or deck, I highly recommend making use of outdoor spaces to expand your square footage.
Now time to finish our plans for the back patio that will join this space. My goal is to create a back yard that is the perfect "staycation" spot for us. After all, we are all spending alot more time at home, aren't we?
The Summer Outdoor Spaces Blog Hop continues with The Cuter Tudor. You can find links to all the inspiring outdoor spaces below!
Stacy's Savings | Hammers n Hugs | The Modern Juggle | The Frugal Homemaker | At Home in the Wild Wood
The Old Barn Company | White Arrows Home | A Brick Home | Vintage Home Designs | The Magnolia Mamas

Lyndale Drive | Dabbling and Decorating | My Little White Barn | The Hand Crafted Haven | Farmhouseish
The Curated Farmhouse | The Ponds Farmhouse | Lana Stenner | Bricks 'n Blooms | Shiplap and Shells
Simply2Moms | Cuter Tuder | Rain and Pine | Itty Bitty Farmhouse | The Tattered Pew