Simple Spring Ideas for Your Front Porch
This post contains affiliate links. If you click on these links and buy something, I make a commission at no cost to you.
It's that time of year again. Time to freshen up our porches for spring!
My go-to is always a pretty wreath, layered doormats, lanterns, and plants.
Come take a look at what I did! I hope it will inspire you to freshen up your outside spaces for spring as well.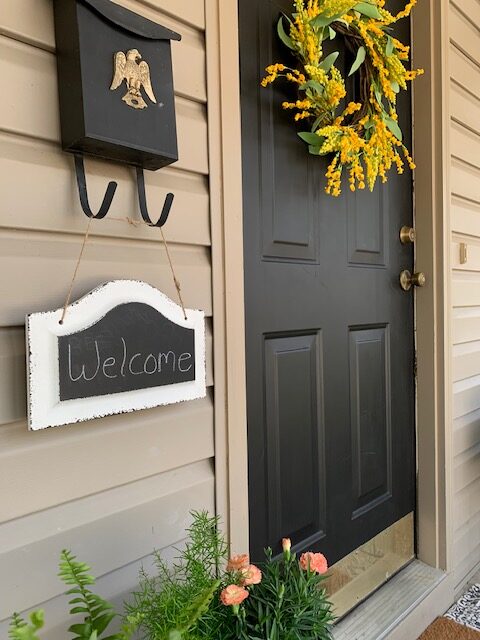 The first thing I do is change out the wreath on our front door for each season.
Because I have a dark painted front door with lots of shade in our yard, I love to decorate my door with bright colors so you can see it from the driveway.
This beautiful spring wreath was a great find! Just under $20.00 from the At Home store.
I also love to change out the doormats. I love layering my porch rugs for bigger visual impact.
The black and white fabric rug was a great find from Ollie's and I'm able to use it pretty much year round.
I just change out the smaller rug on top, depending on the holiday or the season.
This "hello" rug is from Walmart and I love that it can actually be used year round if I choose.
Nothing says spring like flowers and ferns!
I love the pop of green that Boston Ferns give and they do really well under the shade of my front porch.
I add potted plants of my choosing for color each year and my front entry feels so welcoming for spring 🙂
These fun plant stands are also from Walmart. I love their height and the fun design.
Another favorite decor staple for my front porch is lanterns.
I love these lanterns from Lights.com!
The candles are battery operated with a remote and will do well outside even on warm summer nights.
Because all spring entertaining does not take place during the day, it's always a nice touch to welcome your guests with the warm glow of candle light on your front porch.
I hope you have enjoyed seeing a few simple ways to freshen up your front porch entry for the spring season. I don't know about you, but I'm looking forward to the beauty of all the spring colors and new life that the season brings.
Spring reminds us that resilience is only a season away

-Angie Weiland-Crosby
Happy Spring, friends!